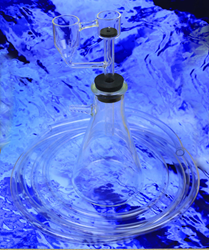 Brooklyn NY (PRWEB) January 07, 2016
FireflySci, Inc (FFS), is a world-class cuvette and calibration standard manufacturer. They are on the cutting edge of all the latest cuvette discoveries and are happy to be making positive changes in the spectroscopy industry. FFS believes in providing people with helpful, top-notch products and most importantly tools that make a scientist's work easier and safer.
Working in a laboratory can be a dangerous job. Scientists are constantly being exposed to nasty chemicals that can have nightmarish effects on their skin. Special clothing and glassware must be used to avoid these chemicals eating through plastic and leaking onto a scientist's workspace. Cleaning the glassware is an intense job, especially when washing a tiny expensive cuvette.
If a cuvette is not squeaky clean, a researcher runs the threat of having all their hard work going into the trash. All the optical surfaces must be free from dust, stains, chemical buildups, and fingerprints. Test solutions can become contaminated from a dirty cuvette and this will throw off the measurements. The way to stop this issue is to make sure a spectrophotometer cuvette is sparkling clean after each use.
When washing a dirty cuvette, harsh chemicals are necessary to ensure the cuvettes are 100% clean. These chemicals can eat away plastics so special tools are required. That is where the FireflySci Cuvette Washer comes in.
The FFS Cuvette Washer is designed to wash the toughest stains and dirt out of cuvettes in the safest way possible. The Cuvette Washer is made from 100% glass. This allows scientists the ability to use those powerful cleansing agents without any risk of damage to the washer.
The Cuvette Washer comes with a large funnel on the top where the chemicals can be poured safely. The large funnel helps prevent spilling and ensures that no cleaning solution is wasted.
After the cleaning solution is poured into the washer, it is shot up into the cuvette in an amazingly powerful blast. The blast is disbursed around the inside of the cuvette and acts like a cuvette dishwasher. This will clean out even the toughest buildups. The cleaning process is really fast and only takes about 10-15 seconds. After the Cuvette Washer is finished, the cuvettes are dried and are ready for immediate use.
The engineers at FireflySci have made the Cuvette Washer an affordable and safe way to clean cuvettes. With all the advantages, scientists will quickly be upgrading to these high-end glass cuvette washers.
For more information visit http://www.fireflysci.com.