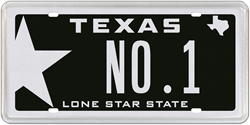 Black and white plates are very popular in Texas, they look smart, sleek, cool, and compliment any vehicle color
Austin, Texas (PRWEB) January 06, 2016
"Ever since we released this plate to the market back in 2008, it has been very popular with Texans and continued to dominate the sales on a daily basis" said Steve Farrar, President of My Plates.com.
In second spot overall and holding the place as the most popular design for 7-letter personalized plate messages is Texas Black 1845. In fact, the top three plates offered by My Plates are all predominantly black and white in design and account for more than 43% of total sales. With over 43,000 plates sold each year, that's a lot of black and white plates.
"Black and white plates are very popular in Texas, they look smart, sleek, cool, and compliment any vehicle color," said Steve Farrar.
The top ranked flag design was the "Come and Take It" Gonzales flag plate design, which again out-sold the "Don't Tread on Me" Gadsden flag and the U.S. flag.
If you were wondering which Texas university plate held the top spot, then you may not be surprised to hear that the Texas A&M Aggies retained that honor over the Texas Longhorns, with the Texas Tech Raiders finishing out the top three.
My Plates also offers out of state College plates and the top ranked plate in this category went to Iowa State University, which launched their plate in May. The other leading out of state contenders were LSU and the University of Alabama.My Plates
Top Ranked Plates for 2015
Top 3 Plates Overall
Lone Star Black
Texas Black 1845
Small Star Black
Top 3 Plates 7-Letter
Texas Black 1845
Small Star Black
Small Star Silver
Top 3 Flag Plates
Come and Take It (Gonzales Flag)
Don't Tread On Me (Gadsden Flag)
USA Pride (U.S. Flag)
Top 3 Color Plates (Excluding Black)
Lone Star Pink
Lone Star Red
Small Star Red
Top 3 Texas University Plates
Texas A&M University
University of Texas
Texas Tech University
Top 3 Non-Texas University Plates (out of state)
Iowa State University
Louisiana State University
University of Alabama
Top 3 Pro-Sports Plates
Houston Texans
Dallas Cowboys
San Antonio Spurs
Top 3 Charity Plates
Calvary Hill
Breast Cancer
Protect Wild Animals
My Plates is revving up for a massive 2016 with the release of an exciting new design, the "Classic Black" Texas license plate. This plate features an all black background design with white numbers and letters. My Plates believes this will be a real contender for the top spot in 2016.
My Plates designs and markets new specialty license plates as a vendor for the Texas Department of Motor Vehicles. Texans have bought more than 250,000 My Plates since November 2009, putting more than $32M in the state general revenue fund. My Plates' goal is to create a long-term, mutually beneficial relationship designed to maximize revenues for the state through the sale of My Plates specialty plates. http://www.myplates.com.
The Texas Department of Motor Vehicles (TxDMV) serves, protects and advances the citizens and industries in the state with quality motor vehicle related services. For every $1 it spends, the TxDMV returns $11 to the state. Each year the agency registers nearly 24 million vehicles; issues more than 7 million vehicle titles; licenses more than 38,000 motor vehicle dealers and distributors; credentials nearly 60,000 motor carriers; issues more than 800,000 oversize/overweight permits; investigates more than 15,000 complaints against dealers and motor carriers; and awards grants to law enforcement agencies to reduce vehicle burglaries and thefts. Learn more at http://www.TxDMV.gov.
Contact Steve Farrar at (512) 633-7978 or steve(at)myplates(dot)com