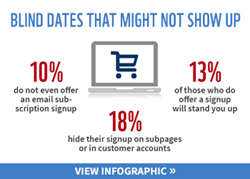 We found out that signing up for emails is like agreeing to go on a blind date; you never really know what is about to happen. Will they be charming? What if they just lead me on? And the worst feeling of all, am I going to be stood up?
Rochester, NY (PRWEB) January 11, 2016
Publicare Marketing Communications Inc., a digital marketing and consulting firm, has attempted to subscribe to receive emails from 6,757 e-commerce websites – collecting a wealth of data along the way. As their research reveals an enormous array of data, they will deliver this study in five parts. The Publicare Email Marketing Benchmark: Part 1 focuses on email subscriber acquisition - how online shops charm contacts they have never met before.
The results include: 10% of the top e-commerce websites Publicare surveyed in the United States do not offer an email subscription sign up.
13.2% of the websites Publicare surveyed that do offer a subscription for marketing emails don't actually send any emails out.
What is more important is that only 87.3% offer an email signup on their homepage. Publicare found 29.7% of these shops made it simple to signup by promoting their subscription via a popup layer. Around every fifth shop makes the signup process additional work for their visitors, as they do not place their subscriptions this prominently.
For 5.3% of the websites surveyed, Publicare had to navigate through their web pages or do a Google search to find their subscription form. Even more difficulty transpired when 12.6% required setting up a user account prior to subscribing.
Surprisingly, as email is a channel that continues to drive online and in-store sales, only 18.8% of the websites surveyed offered incentivized email subscriptions; for example offering a coupon or other commercial benefit to join their mailing list.
Many more results, as well as, an infographic on the email benchmark can be found here: http://hive.publicare.de/en/email-marketing-benchmark-part1/.