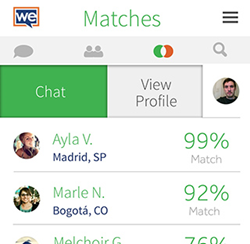 ...this new chat app is the beginning of providing powerful tools that offer a fun, effective, and relevant mobile language learning experience to meet the needs of our world-wide community."
Pittsburgh, PA (PRWEB) January 12, 2016
WeSpeke, the leading social network for language learning, is launching the first in a series of powerful language apps that will be released in 2016. The first app, WeSpeke Chat, enables users to learn and practice languages, share cultures, and create a network of international friends by chatting with members of the WeSpeke global community, currently representing 193 countries and 207 native languages.
"Every day we have members chatting with language partners and friends in any number of countries. We've had tens of millions of exchanges and our new mobile app will deliver an enhanced chat experience," said Michael Elchik, CEO of WeSpeke. "Our future is mobile and this new WeSpeke Chat app is the beginning of providing powerful tools that offer a fun, effective, and relevant mobile language learning experience to meet the needs of our world-wide community."
The new app provides a smooth chat exchange with friends and matched language partners while delivering a quick registration process. Elchik added, "Our updated onboarding experience is designed to help our members find their doppelganger. I recently heard about a user in the U.S. who found a Spanish partner in Venezuela. Both shared an interest in soccer and then discovered their favorite team was Inter Milan. What better motivation to learn a language than to practice with someone just like you!"
The WeSpeke Chat app can be downloaded for free in the iTunes Store or in Google Play and is available for all countries.
About WeSpeke
WeSpeke is a free, safe, global social network designed for learning and practicing languages, sharing cultures, and making international connections. Using WeSpeke, learners build language skills through collaborative and immersive conversations with native speakers on topics of common interest. The platform enables members to connect using text, audio, and video on computers, tablets, and smartphones. For additional learning support, WeSpeke offers focused 30-minute Lessons that teach English, including TOEFL iBT® test preparation, and other languages. Each Lesson uniquely integrates content, practice, and communication with the WeSpeke global community. WeSpeke was founded in 2010 by Michael Elchik and Jaime Carbonell, Ph.D., Director of the Language Technologies Institute at Carnegie Mellon University in Pittsburgh, PA.