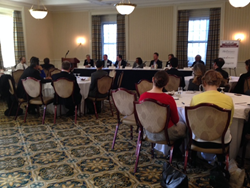 New York, New York (PRWEB) January 12, 2016
For almost 50 years, the Wall Street Technology Association provides financial industry technology professionals, vendors, service providers, and consultants forums to learn from and connect with each other. The WSTA facilitates seminars and networking events where members meet and exchange ideas and best practices that assist them in effectively capitalizing on technology advances and dealing with financial industry business challenges. Founded in 1967, the WSTA is a not-for-profit association with a long history of evolving to meet the needs of its members. The WSTA currently offers programs in the New York Tri-State area and Boston and is evaluating other cities where its presence could be beneficial to financial technology professionals in those locations.
During 2016, the WSTA plans to continue hosting educational seminars, panels, focused roundtables, and other unique events that will address technology, business and operational challenges and solutions. Scheduled 2016 topics include: Mobility, Analytics, Cybersecurity, Digital, and Emerging Technologies. There will also be two "Premiere Social Events" for technology professionals to get together after hours in an informal setting. For a complete calendar, visit http://www.wsta.org/events/. The WSTA's LinkedIn group continues to gain momentum with over 4,800 members. We are also leveraging Twitter and Facebook to share information with financial technology professionals and vendors who serve the financial industry.
The WSTA would like to welcome and thank its Board of Directors for volunteering their time, experience and expertise which allows the WSTA to continue to be a valuable resource for the financial industry.
WSTA 2016 Board of Directors
President
James Kostulias, Chief Information Officer, TD Ameritrade
1st Vice President
Casey Santos, Chief Information Officer, General Atlantic
2nd Vice President
Joseph Weitekamp, Managing Director-Chief Enterprise Architect, ITG, Inc.
Treasurer
Ronald F. Ries, CPA, Partner, WeiserMazars LLP
Secretary
Chris Randazzo, CIO and Managing Director of Wealth Management and Investment Management Technology, Morgan Stanley
WSTA Immediate Past President
John Killeen, Retired
Directors
Alex S. Berson, Executive Director and Distinguished Engineer, Corporate Technology and Risk, JPMorgan Chase & Co.
Randall Brett, Managing Director, Head of Software Architecture, Pine River Capital Management
Thomas Doughty, VP-Chief Information Security Officer, Prudential Financial
Michael Fremgen, Head of IT Infrastructure, MIO Partners at McKinsey and Company
Alok Kapoor, Executive Vice President, Enterprise Infrastructure, Fidelity Investments
Swamy Kocherlakota, SVP, Head of Operations & Infrastructure, Visa
John F. Looney, SVP, Client Technology Services, State Street Corporation
Michael Maffattone, Chief Technology Officer, Annaly Capital Management, Inc.
Perry Metviner, Managing Director, Chief Technology Officer, Davidson Kempner Capital Management
Suresh Nair, Managing Director, Enterprise Technology Architecture & Shared Capabilities, Bank of America
Lawrence Pecker, Executive Director, Wealth Management Americas Technology, UBS
Thomas I. Piderit, Vice President, Federal Reserve Bank of New York
Alec Polnarev, SVP-Head of Enterprise Infrastructure, Harvard Management Company
Phyllis Lampell, WSTA Executive Director
Jo Ann Cooper, WSTA Executive Director