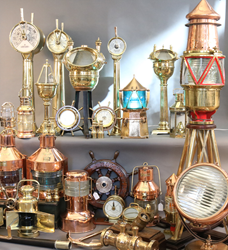 Boston, Massachusetts (PRWEB) January 07, 2016
More than forty elegant steam yachts, classic tugs, America's cup boats, clipper ships, steamships, whalers, schooners, and vintage pond yachts are crossing the block including original dockyard models. In addition, over a dozen choice engine order telegraphs will be presented. EOT's pass orders from the bridge to the engine room on large vessels and these splendid examples will command attention in your home or office.
Also included in this sale are a number of unique maritime furnishings including porthole tables of aluminum and brass, sea chests with rope beckets, camphor bureaus and nautical cabinets. For your wall ornamentation there are over forty rare harbor charts, yacht blueprints from Sparkman and Stephens and John Alden, an oil painting of the steam yacht Stranger by Elijah Taylor, yacht paintings by Taylor and more.
Rounding out the auction are a massive pair of Russian binoculars on a pedestal as well as several tripod telescopes, four pair of brass binoculars, spyglasses, etc.
The Ship Model & Nautical Antique Auction catalog can be viewed in full and downloaded on the Boston Harbor Auction's website, at: http://bostonharborauctions.com/forms
Previews will take place on Thursday January 14th from noon to 6pm, Friday January 15th from noon - 6pm, and Saturday January 16th before the auction from 8am - 10am at the Lannan Ship Model Gallery located at 187 Purchase St. (rear of 99 High St. Tower).
For more information, please visit the website, find us on Facebook and Pinterest, call (617) 451 7447 or email info(at)bostonharborauctions(dot)com
You can arrange absentee or phone bidding, or register online to bid live from your computer. Better yet, make your plans to attend this auction in person and enjoy the colorful banter of auctioneer Peter Coccoluto who always conducts an interesting, fast-paced sale.