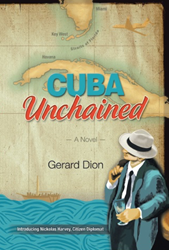 My hope is for Cuba Unchained to aid in perpetuating the process of U.S-Cuban reconciliation, which has been in a stalemate
SAN DIEGO (PRWEB) January 11, 2016
The United States and Cuba severed ties almost fifty-five years ago, but experts say, even though Presidents Barack Obama and Raul Castro have made some progress, the U.S. trade embargo will not disappear in the near future.
Author Gerard Dion, long a proponent of U.S.-Cuba reconciliation, finds that detrimental to the success of both countries. His new political thriller, Cuba Unchained, addresses the unique relationship of the United States and Cuba and the US embargo, a relic of the Cold War.
"The very unique and illogical U.S.-Cuban relationship has mystified me for the last 25 years, as have other similar politically motivated relationships, which oppress large segments of innocent people," Dion said. "My hope is for Cuba Unchained to aid in perpetuating the process of U.S-Cuban reconciliation, which has been in a stalemate."
Like his main character in the novel, Dion is a US Marine veteran and a successful businessman. He considers it his duty to put forth his talents toward a situation about which he is passionate.
"One man or woman can change the world," Dion said. "Those with the ability have the responsibility."
For more information, visit http://www.cubaunchained.com.
Cuba Unchained
By Gerard Dion
ISBN: 978-1-50357-953-8
Available in softcover, hardcover, e-book
Available on Amazon, Barnes & Noble and Xlibris
About the author
Author Gerard Dion is a US Marine veteran and successful business owner with many years of experience with a Fortune 50 corporation. He has overcome both cancer and a three-way heart bypass. Long a proponent of U.S.-Cuba reconciliation, Dion has written his first novel, Cuba Unchained, about the relationship between the two countries. The author currently lives in San Diego, Calif.
# # #
**FOR IMMEDIATE RELEASE**
For review copies or interview requests, contact:
Jaymie Shook
317.602.7137
jshook@bohlsengroup.com
For events and speaking opportunities, contact:
Sallie Escobedo
619.807.0291
info@gerarddion.com