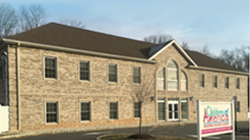 "We go the extra mile when developing our programs," said Jim Perretty, CEO of Children of America. "Our job is to establish programming that inspires children, informs parents and builds a solid educational foundation for our young ones."
(PRWEB) January 08, 2016
Children of America will open its doors at their Parsippany facility Monday January 11th, 2016, bringing a preferred childcare experience at an affordable price to the families of Morris County. The school located at 70 Old Bloomfield Ave., Parsippany, NJ 07054 will be the seventh center to open in the New Jersey area.
"We go the extra mile when developing our programming," said Jim Perretty, CEO of Children of America. "Our job is to establish programming that inspires children, informs parents and builds a solid educational foundation for our young ones."
THE FOUR CORNERSTONES COA
To jumpstart a lifetime of learning, COA programming focuses on the following:

STARS: (Strategies to Achieve Reading Success) a curriculum that emphasizes teacher-child interaction and fosters creativity and self-reliance.
JUST READ: an original series of books written from the companies dog mascot point of view, encourages children to read early and well.
NUTRITION: nutritious meals and snacks planned by our registered dietitian with a blog providing healthy cooking tips and recipes for families.
FITNESS: interactive play and physical fitness daily programming.
Perretty went on to say, "We continue to bring cutting-edge learning techniques to the children we serve along with vigorous training for staff members. This keeps us on the forefront and gives our families what they deserve, the very best in childcare".
A Grand Opening Event is scheduled at Children of America, Saturday, Jan. 23rd from 10am to 2pm. The event will feature games and refreshments for the whole family with special enrollment offers. Tours will be available during the event.
COA ADVANTAGES

Daily electronic reporting
Balanced meals and healthy snacks provided
Internet-based monitoring for parents
Transportation for school-age children
Part-time childcare available
SCHOOL INFORMATION
Parsippany
862-377-7788
70 Old Bloomfield Ave.
Parsippany, NJ 07054
MORRIS COUNTY
SCHOOL SUMMARY: Ages: 6 Weeks - 12 Years Old
Open: Monday - Friday Hours: 6:30 a.m. - 6:30 p.m.
AGE-GROUP/PROGRAMS OFFERED

Infant Programs
Toddler Programs
Preschool
Pre-K
Kindergarten Programs (Not available at every location)
School Age Programs
Summer Camps Programs
About Children of America Educational Childcare & Academy
Founded in 1997, Florida-based Children of America is a leading provider of high-quality childcare and after-school programs. With over 1,500 employees, the firm operates nearly 70 schools in Delaware, Illinois, Indiana, Maryland, Massachusetts, New Jersey, New York, North Carolina, Ohio, Pennsylvania, Virginia and Wisconsin. An industry pioneer, Children of America is a subsidiary of World Wide Child Care Corp. Visit childrenofamerica.com for more information or interact with COA on Twitter and Facebook.