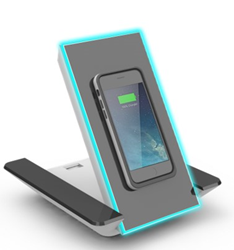 Magnetic-resonance technology is the future of wireless charging.
Jericho, NY (PRWEB) January 07, 2016
Kube Systems, a company that designs, manufactures and markets mobile device charging solutions for the hospitality industry, has unveiled its first magnetic resonance-based application at CES® 2016. Designed in cooperation with Intel, a prototype of the KS Magnetic Resonance Charging Solution is now on display at the Las Vegas Convention Center in the AirFuel™ Alliance Booth SL-4. As members of AirFuel Alliance, Kube Systems and Intel envision a future where the world's mobile devices can power up without plugging in.
Kube Systems has been developing wireless charging solutions for Marriott International Inc. hotels for several years. As global charging standards change, the company is committed to developing solutions that are both future proof and investment proof.
"Magnetic-resonance technology is the future of wireless charging," said Dave Weinstein, Kube Systems Vice president. "Unlike magnetic induction technology whereby a user's phone needs to be placed very accurately on the target zone, magnetic resonance charging offers more freedom of placement of the mobile device on the charging pad. This convenience is ideal for hotel guests traveling with multiple devices.
"Based on our successful technology partnership with Marriott International, Intel suggested that we collaborate on a magnetic resonance-based solution that will charge a variety of mobile devices – not just smartphones," he said. "This collaborative effort is now on display at CES 2016."
Available in five finishes (Leather, Wood, High Gloss, Carbon Fiber and Hairbrush), the KS Magnetic Resonance Charger can lay flat or be angled to provide better visibility while the mobile device is in use. When properly paired, the outer rim of the charging pad illuminates. The prototype at CES 2016 is designed to charge smartphones only, however, a commercial version may simultaneously charge multiple phones and a wider array of devices such as tablets.