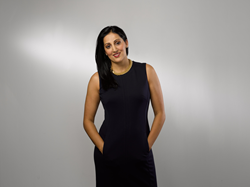 (PRWEB) January 08, 2016
Today, noted plastic surgeon Dr. Kiranjeet Gill announced she is now offering NATRELLE INSPIRA™ – a new line of breast implants that revolutionizes how women can design the perfect pair. Recently launched by Allergen—the brand famous for distributing Botox and Juvederm, the highly advanced breast implants are generating even more interest and buzz since these unique implants aesthetically create a breast shape with softness and more fullness.
This incredible, new line of round, gel-filled breast implants are FDA-approved and "heralds a major advancement in the art and science of aesthetic and reconstructive breast implant surgery in the United States." NATRELLE INSPIRA™ will enable Dr. Gill to offer better solutions for various types of breast concerns—from women who seek breast augmentation to regain fullness after a pregnancy to the millions of women who deal with aging saline or silicone breast implants.
"It's no secret that breast augmentation remains the number one cosmetic surgical procedure so I'm excited about this new advancement," said Dr. Gill. "Since NATRELLE INSPIRA™ breast implants are designed to offer the patient more fullness with a softer feeling texture, my patients can now achieve more beautiful breast shaping."
Dr. Gill, a highly respected Florida plastic and reconstructive surgeon, is an expert in the aesthetics of the face and breasts. She assists her patients in achieving the perfect breast shape and size for proportioned balance. As a woman and female plastic surgeon, Dr. Gill is sensitive to the reasons a woman might desire breast implants, especially when that patient is looking to restore lost breast volume due to several factors such as age, post-pregnancy, weight loss, reconstruction due to cancer or trauma, breast abnormality or revision surgery to correct a primary breast augmentation.
Allergan's NATRELLE® breast implants offer the largest number of round gel breast implants with 243 size options and a variety of projection styles. The comprehensive NATRELLE® product line enables plastic surgeons to provide a tailored fit based on a patient's desired look and her individual size and dimensions. NATRELLE INSPIRA™ breast implants have been made specifically to hold their shape better with less chance of deformities like rippling or wrinkling in the future.
Dr. Gill has been highly trained in creating natural looking breasts for her patients and believes strongly in the No-Touch technique for breast implant placement. The Keller Funnel is a single use, cone-shaped device that intelligently assists in the delivery of pre-filled silicone implants during the augmentation procedure. The No-Touch technique has been shown to prevent contamination of the implant and allow for smaller incisions into the breast pocket. Dr. Gill has perfected the surgery with these precise techniques that include small incisions and hidden placement, revealing a very fine line.
To learn more about NATRELLE INSPIRA™ or to request a consultation at Dr. Gill's practice, The Aesthetic Surgery Center, call (239) 594-9100 or visit us at https://www.aestheticsurgerycenter.com.
Aesthetic Surgery Center
11181 Health Park Blvd. Suite 1115
Naples, FL 34110
https://www.aestheticsurgerycenter.com