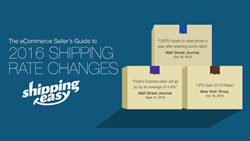 This 20-page eBook is the first and only guide to everything an eCommerce seller needs to know about the upcoming shipping rate changes
Austin, Texas (PRWEB) January 07, 2016
ShippingEasy, provider of the leading cloud-based shipping solution for eCommerce sellers of all sizes, today published The eCommerce Seller's Guide to 2016 Shipping Rate Changes. This 20-page eBook is the first and only guide to everything an eCommerce seller needs to know about the upcoming rate changes, including:

A summary of the changes and what they mean: The guide aggregates the key facts of each carrier's changes into an easy-to-use table, and provides guidance on how to interpret the changes based on a seller's specific business considerations
Tools for determining the most cost-effective carrier for a given set of shipping parameters: Through a set of easy to use tables, sellers can quickly determine what carrier provides the best pricing for a package based on its weight, destination zone, and delivery time (e.g. overnight, 2-3 day, and greater than 3-day), as well as whether there are alternative services (e.g. USPS First-Class Mail®, USPS Priority Mail Flat Rate® or USPS Priority Mail Regional Rate® boxes) that may be even more cost effective.
Examples of how the changes impact real-world eCommerce businesses: ShippingEasy has analyzed its proprietary, anonymous shipping data to demonstrate the impact of the rate increases for specific shipping situations—and how a seller can mitigate the impact by looking at alternative carriers and/or services.
"The 2016 changes include some of the most comprehensive rate increases we've seen in years, and to their credit the carriers have been very forthcoming with information." said Katie May, CEO of ShippingEasy. "But until now, that information was only available by going and studying each carrier's publications. This guide is the first—and so far only—single document that allows time-strapped eCommerce sellers to not only easily understand what changes are coming, but to come up with a strategy to mitigate their business impact."
To learn more, download the ShippingEasy eCommerce Seller's Guide to 2016 Shipping Rate Changes today or view the Summary of Major Carrier Rate Changes for a snapshot.
About ShippingEasy
ShippingEasy provides online merchants with the easiest cloud-based shipping solution enabling order consolidation across multiple channels and multiple carriers, including USPS, FedEx and UPS. ShippingEasy integrates with leading online marketplaces and store platforms to allow order, tracking and fulfillment data to populate in real time across all systems. ShippingEasy offers full automation with AutoShip and robust tools such as shipping rules, a product database, endless customization and enhanced reporting. For more information, visit http://shippingeasy.com