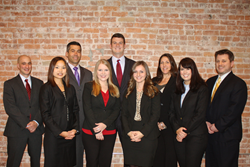 Groton, Connecticut (PRWEB) January 09, 2016
Former active duty Marines just opened a Groton, Connecticut law office at 317 Long Hill Road to serve the needs of servicemembers, veterans and the Southeastern community of Connecticut.
This Veteran law firm has a long lineage of past and current military service. The firm was founded by Walter Bansley III, a former Marine ground officer and Judge Advocate. His son, Walter Bansley IV, a former Marine Captain, is now managing partner of the firm.
Another partner in the firm, Keith Anthony, is spearheading the opening of the Groton firm. Keith is a former Marine Captain and Judge Advocate and continues to drill in the reserves. The firm concentrates its legal practice in the areas of personal injury, family law, criminal defense, UCMJ defense, real estate, business services and all military specific legal issues.
The office is conveniently located on Long Hill Road, off of 95, in close proximity to the Sub Base, doctors and chiropractors offices and other local businesses. You can learn more about the firm at http://www.bansleylaw.com or call 860-326-5100.