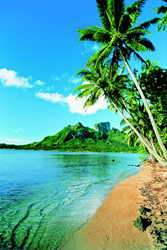 Is your New Year's Resolution to make sure you do something truly memorable next New Year?
Carmel, CA (PRWEB) January 07, 2016
Is your New Year's Resolution to make sure you do something truly memorable for New Year 2016/2017? Why not join Ram's Gate Winery Managing Owner Jeff O'Neill in Tahiti and French Polynesia? He and his family are sailing roundtrip from Papeete, Tahiti December 28, 2016 to January 4, 2017 on award-winning Paul Gauguin Cruises.
Year end should be a time of celebration and renewal, reward and reflection. The islands of French Polynesia offer a perfect balance, far less crowded than Hawaii or other warm weather vacation destinations. There is plenty of time for snorkeling, kayaking, dance performances and relaxing while sailing between Huahine, Taha'a, Bora Bora and Moorea. Guests will also have access to special dinners, receptions and tastings featuring Ram's Gate wines.
Just awarded "2015 Winery of the Year" by Connoisseurs' Guide to California Wine, Ram's Gate Winery embodies the convergence of great wine, design and hospitality. Situated at the historic gateway to the Carneros wine region, Ram's Gate was created with the belief that in a world obsessed with making things faster, where speed is valued above all else, a delicious wine is the way to press pause – to savor and enjoy what we love most. Amidst sweeping views of the surrounding vineyards, Ram's Gate focuses on Pinot Noir and Chardonnay sourced from exceptional Sonoma County vineyards, from their Carneros Estate to the Russian River Valley.
Facilitating this journey is Michael Mastrocola's MillenniuM (MmMmTravel for short) as part of their 2016 Taste of Life travel collection. MmMmTravel has a great deal in common with a bottle of world-class wine. The finished product is the culmination of years of work and one precise moment. It can never be recreated exactly, but one understands that good vines, knowledge and craftsmanship are indicative that the next vintage will be stellar. A travel artisan, Michael Mastrocola has extensive international travel experience and over 35 years in the industry.
The 332-guest m/s Paul Gauguin was designed specifically to allow guests the freedom to discover the exotic ports of the South Pacific without limitation. As the longest continually operating luxury cruise ship in the South Pacific, The Gauguin is one of the most highly awarded luxury cruise ships in the world, regularly receiving top honors for superb luxury, quality, service, itineraries and value. Paul Gauguin Cruises was recognized in 2015 as the "#2 Ocean Small-Ship Ocean Cruise Line" in Travel + Leisure's World's Best Awards; in 2014 as the "#1 Small-Ship Cruise Line" and #1 Small-Ship Cruise Line for Families" in Travel + Leisure's World's Best Awards; one of the "Top 20 Small Cruise Ships" by readers of Condé Nast Traveler for the 15th year in a row in 2013; and has earned accolades for dining, entertainment, fitness, shore excursions, value and best overall in the Small Ship Category in the 2015 Cruise Critic's Cruisers' Choice Awards.
Paul Gauguin New Year's sailing cruise fares are from $3,795 per person, port charges and shore excursions are not included in the fare. For additional information visit http://www.MmMmtravel.com.