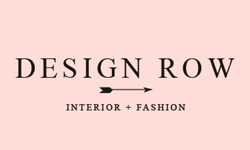 These three will make computer browsers blush while bringing their insider insights to the masses.
Los Angeles, CA (PRWEB) January 07, 2016
There's a new girl on the e-commerce block called Design-Row that is kicking off 2016 in a big way. Having teased and excited followers via social media since October, Design-Row has finally opened its virtual doors for business.
The Design-Row mantra is high style at affordable prices. Visitors to the site will see the idea that led to the site's creation which is, "A curated luxury shopping experience." The Design-Row team designed their site to be more than just a destination, the site is meant to be a place for inspiration. As important as our products is our editorial inspired aesthetic, that's why Design-Row creates innovative ways to bring your style as easily to your home as to your closet. Thus, the goods offered are a range of accessories, furniture, décor, jewelry, apothecary items and fashion fundamentals.
The curators and founders of Design-Row are veterans of the interior design, fashion and beauty industries. Interior Designer Natalie Norcross owned highly successful design firm Distinctive Design Company which worked with acclaimed hoteliers like Raffles Resorts and W Hotels.. Creative Director Nicole Rombeau has built her reputation working with well-known brands such as BELLA LUXX, alo yoga and Lulu's; while the third member of Design-Row's leading ladies Trish McCall is a public relations pro who previously worked with internationally known beauty brand Micabeauty. As colleagues at A Design Partnership, the respected lifestyle agency was the cocoon from which the Design-Row butterfly emerged. These three will make computer browsers blush while bringing their insider insights to the masses.
Just as every good party has party favors, Design-Row is celebrating the launch of their site with an Instagram giveaway. Followers and fans can find the details of how to win a Design-Row prize on their Instagram profile @designrow. The chance to win starts today, Thursday January 7th and winner will be announced on Monday January 11th. While it's considered wise to be fashionably late to a party, don't leave early because the girls at Design-Row are putting together two more giveaways this month. You heard it here first.
To see Design-Row's wares firsthand shop the website http://www.design-row.com and stay social social by following them on Instagram, Facebook and Pinterest for the chance to receive exciting gifts as the team continues to celebrate their launch over the next several months.