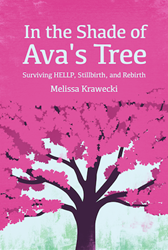 Melissa's story teaches invaluable lessons to partners, families and caregivers about how to truly hold space during a time when survival for the grieving parents after the death of their child seems rather unlikely nor surmountable or desirable.
Amarillo, Texas (PRWEB) January 08, 2016
Praeclarus Press is proud to present a new webinar: Supporting the Bereaved through Infant Loss and Birth Trauma with author, speaker and infant loss survivor, Melissa Krawecki. Friends, family, and healthcare providers can make a tremendous difference, but often do not know what to say or do. A webinar on January 11 is designed to help healthcare providers help families who have experienced loss. Melissa Krawecki, who lost an infant, and almost died herself, teaches healthcare providers how to effectively intervene. Melissa is the author of "In the Shade of Ava's Tree: Surviving HELLP, Stillbirth and Rebirth."
Webinar participants will gain an in-depth knowledge and understanding of infant loss and birth trauma from the perspective of a patient and parent; learn tangible and effective things to say--and not to say--to bereaved families in the face of infant loss. Participants will also explore how to help a patient experiencing or recovering from birth trauma, including infant loss, and help them on the road to healing. Melissa will discuss how to support a family in time of trauma and loss, including spouses and extended family, and how to help families memorialize their loved one through the use of ritual and memorials.
Speaker Melissa Krawecki is a wife, blogger, mother and HELLP syndrome survivor, and is committed to educating professionals on supporting families through infant loss, trauma, and pregnancy after loss. In 2011, Krawecki and her husband, were happily expecting their first baby. Late in her pregnancy, Melissa began to feel unwell. Unknown to both Melissa and her care providers, she had HELLP syndrome, a life-threatening complication of pregnancy. HELLP lead to the loss of her first child, Ava, and almost the loss of her own life. Melissa resides in Ontario with her husband Matthew and their daughter Lillian, remembering Ava always. In the Shade of Ava's Tree is available from Praeclarus Press. Through the end of January receive complimentary shipping when ordering the book online. Please use code AvasTree2016 upon checkout.
Praeclarus Press is a small press that specializes in women's health founded by health psychologist Kathleen Kendall-Tackett, PhD, IBCLC, FAPA. It features books, webinars, and products that support women's health throughout their lifespan. Based in Amarillo, Texas, the mission of Praeclarus Press is to produce materials that change women's lives.