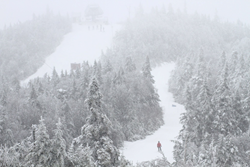 We now have over 80% of our terrain open and will be looking to add even more before the MLK Holiday
Montpelier, VT (PRWEB) January 07, 2016
Vermont ski resorts have expanded their open terrain four fold since the dawn of the New Year and are preparing for an exciting Martin Luther King Jr holiday weekend. Wintery weather has settled in with snowstorms and the Vermont's 80% snowmaking coverage firepower working hard to cover the Green Mountains in deep snow. Terrain expansion is expected to double yet again by Martin Luther King weekend with terrain available for all levels of skiers and riders.
Winter storm Goliath paired with some localized intense snow squalls have helped some resorts drop ropes on natural snowfall terrain. Jay Peak, Stowe and Sugarbush have all seen over a foot of snow fall since New Year's Day.
"With close to three feet of new snow since New Year's Eve and perfect snowmaking weather, Jay Peak's trail count has grown seven-fold since Christmas and is increasing daily," said JJ Toland of Jay Peak Resort. "Recently several days of intense snow squalls allowed Jay to open close to a dozen of its natural snow trails."
"We now have over 80% of our terrain open and will be looking to add even more before the MLK Holiday," said Sugarbush President, Win Smith. "The skiing and riding here at Sugarbush is really good." The resort now has 92 trails across 395 acres and 44.3 miles, all the highest totals on the East Coast.
Okemo Mountain Resort is maximizing its snowmaking capacity with 7,000 to 9,000 gallons of water pumping through its snowmaking system every minute, around the clock. 1,125 HKD tower guns plus several hundred guns of varying types have been deployed as Okemo's snowmaking arsenal is operating at full power.
"With the help of our 20 new energy-efficient fan guns and consistent cold temps from Mother Nature we were able to quadruple our open terrain in just six days and expect to have more ropes dropped by the weekend," said Jessica Sechler of Q Burke Mountain Resort.
Martin Luther King Jr holiday weekend guests at Killington Resort should expect to see the largest Terrain Based Learning facility in the country open, plus trail connectivity all the way to the base of the infamous Bear Mountain.
Vermont's ability to bounce back from warm weather is unparalleled due to its consistent investments in state-of-the-art, highly efficient snowmaking systems. Now that winter has settled in to the Northeast, there is no better place to visit than Vermont.
For events, activities and MLK deals at Vermont resorts, visit http://www.skivermont.com.