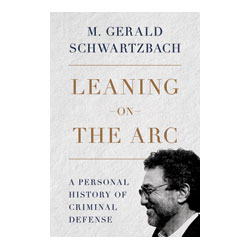 He will never be rich and he will never be famous...but by God he can save lives and that will keep him warm on any cold night in his life. —Robert Blake after his acquittal, March 16, 2005
Chicago, IL (PRWEB) January 12, 2016
Timed to the anniversary of the acquittal verdict for actor Robert Blake, criminal defense attorney M. Gerald Schwartzbach's new book, "Leaning on the Arc: A Personal History of Criminal Defense," will be published on March 16, 2016, 11 years after this internationally publicized trial was won.
Part memoir, part case history, Schwartzbach demonstrates why and how true justice can only happen when we refuse to objectify the defendant—whether it be Hollywood legend Robert Blake, civil rights activist Stephen Bingham, or Dr. Hootan Roozrokh, the youngest organ transplant surgeon in the United States -- regardless of his or her alleged crime.
Schwartzbach often gave up his own comforts, including going into debt in order to provide quality representation to his clients, whether rich or poor. Among his many high profile cases for the less fortunate, including those wrongfully convicted, Schwartzbach argued before the California Supreme Court that all indigent defendants facing a potential death sentence were entitled to be represented by two attorneys. The court agreed, significantly increasing the quality of representation in all such California cases.
Schwartzbach, a trial lawyer for over 45 years, is a San Francisco Bay area criminal defense attorney who is listed in "Best Lawyers," "Super Lawyers," The Martindale-Hubbell Bar Register of Preeminent Lawyers and the Marquis publications "Who's Who in the World," "Who's Who in America" and "Who's Who in American Law." He has received the Skip Glenn Award, presented for outstanding service in defense of a client by California Attorneys for Criminal Justice, a statewide organization of over 2,000 criminal defense attorneys. Mr. Schwartzbach has also been a recipient of the Outstanding Service Award by the Northern California Innocence Project. In addition, he was named Distinguished Advocate by the Advisory Board of the Heafey Center for Trial and Appellate Advocacy at Santa Clara University School of Law.
Editor's note: Advance reader copies and author interviews are available by emailing Jill Nuppenau at jill(dot)nuppenau(at)americanbar(dot)org. If you publish a review of this book, please send tear sheets or a copy for our files to Jill Nuppenau, c/o ABA Publishing, 321 N. Clark St., Chicago, IL 60654.
This new book is available for pre-order on http://www.amazon.com and also as an e-book.
Ankerwycke, launched in December 2014, is the consumer-oriented imprint of the American Bar Association, one of the largest voluntary professional membership organizations in the world with more than 400,000 members. In 1215, Magna Carta was sealed underneath the ancient Ankerwycke Yew tree, starting the process which led to rule by constitutional law — in effect, giving rights and the law to the people. Today, the ABA's Ankerwycke line of books continues to bring the law to the people. With legal fiction, true crime books, popular legal histories, public policy handbooks, and prescriptive guides to current legal and business issues, Ankerwycke is a contemporary and innovative line of books for everyone from a trusted and vested authority. Follow Ankerwycke on Twitter @AnkerwyckeBooks.