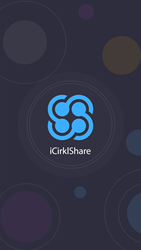 "iCirklShare, Do you?"
(PRWEB) January 12, 2016
ICS Venture Capital, LLC, a company that invests in new technologies and develops mobile apps for global use, introduces iCirklShare. The new app will be available this spring. The company believes the app will have a huge impact on the marketplace because it combines all of the features that people love in one place while providing them an interactive service for keeping their contacts up-to-date. Users have the capability of starting with their contact list and going public to create their unique mobile society or Cirkl.
The app is designed for anyone who wants to keep their contacts organized from teens who want to create social Cirkls to professionals who need to keep track of new clients. It alerts users when their contacts become inactive. For example, if a contact has not been called or texted in a certain amount of time, iCirklShare will alert the user. Cirkls are highly customizable so that each contact is easy for the user to remember. The app also contains the following unlimited capabilities: inactive alerts, posting to individual Cirkls, app to app calling, live video calling, chat and multi-device synching.
iCirklShare also features private and public Cirkls. Users can create private Cirkls from their contact lists and can send invites asking their contacts to join other Cirkls with shared interests. None of the private Cirkls will be searchable on the web, ultimately giving the users the privacy and freedom to create and customize their mobile connections within the app. Public Cirkls can be created and made public, making them searchable worldwide and other iCirklShare users can request to join.
The company further plans to offer featured and sponsored Cirkls for celebrities and companies to increase visibility and target markets with a unique alternative for reaching their desired audience.
For more information, visit the company's website find them on Facebook, Instagram, or Twitter. "iCirklShare. Do you?"
Press Contact: Valerie Smith
Phone Number: 1-800-581-2893
Email: customersupport(at)icirklshareapp.com