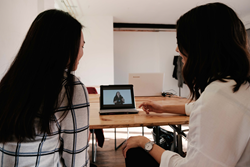 While our phase one focus is within the events industry, I believe that once this IP is built, it's transferrable to anyone who constantly needs to onboard new interns or employees within any industry worldwide
Dallas, Texas (PRWEB) January 12, 2016
Inspired by years of successful recruiting and training programs, Mary Baird-Wilcock, serial entrepreneur has launched a new platform to create more successful internship programs. The Apprentice Program provides global platform of experienced mentors to collaborate and construct programs to ensure interns are successful and become an asset to the business.
Interns tend to be overworked and underpaid for their contributions and this is be directly related to business risk, training and experience. Successful internships take time and financial commitment from the intern and the business. Todays' business reputation is social and interns consistently share what companies have the best cultures for gaining practical experience. The Apprentice program is designed specifically to serve the needs of both the intern and the business.
"Internships allow young employees to gain the professional skills and businesses must invest in these programs to capitalize on emerging talent. LinkedIn's recent acquisition of Lynda.com is proof that training is essential to finding a rewarding career and validating the skills of potential employees." says Mary Baird-Wilcock, CSEP, Founder and CEO of The Simplifiers. "Businesses however need more specialized training, mentorship and certifications for internships."
Through a subscription to this service, interns and businesses have access to a comprehensive online training and accountability platform. Companies that have clearly defined internship programs with structured training have a higher chance of turning interns into full time employees.
The Apprentice Program platform includes:
Global network of experienced professionals in the events industry to help train interns by simply uploading and sharing their knowledge:

Hands-on homework missions - getting interns out in the field, meeting people, gaining skills
Integrated pop quizzes + assessment
Intern report cards + feedback tools - showcasing their accomplishments + learner's journey
Accountability buddies + discussion forums
Simple-to-use lesson plans + mentor support - making their job easier
Benefits for Businesses:

Saves time - helps them focus on higher yielding tasks like sales and client relations
Tap into a global network of mentors and their expertise to train their teams and brush up on skills themselves
Minimize stress - exclusive access to integrated lesson plans that are easy to implement
Benefits for Interns:

Gaining tangible skills and hands-on experience, in exchange for their time donated to internship
Empowering them to learn and grow
Blended learning - both one-on-one live training time with their mentor and online training tools
The next stage of growth will be sparked by a Kickstarter campaign launched on January 12th, 2016, with the goal of raising $10k USD in order to complete the final phase of software development of the online platform.
"Our initial focus within the events industry where we have extensive content and mindshare. We intend to make the platform open to support the internships programs of many other industries. says Baird-Wilcock. "As an event planner, mentor, entrepreneur, creative artist and a mother of two under 7 years old, I'm excited to bring this technology to the marketplace, helping people connect and learn via the power of the crowd."
Baird-Wilcock also serves as a Director-at-Large on the Board of Governors of the International Special Events Society (ISES), serving and overseeing education for 53 chapters globally and over 6000+ members worldwide.
***
ABOUT SPECIAL EVENTS MAGAZINE
Special Events magazine, founded in 1982, is the oldest trade publication for special events professionals worldwide and has been a partner of the International Special Events Society since 1985.
ABOUT THE SIMPLIFIERS + THE APPRENTICE PROGRAM
The Simplifiers are an award-winning full-service event planning firm, launched in 2003 and headed by CEO, Mary Baird-Wilcock, CSEP. Thought leaders in online events education via The Apprentice Program and winner of 2015 Best of Weddings by The Knot, Baird-Wilcock is only 1 of 400 worldwide who are CSEP certified as a Certified Special Events Professional. The Simplifiers were listed as a finalist in the 2015 Tech Startup of the Year awards and a finalist in the 2016 WeddingWire Weddi Awards for "Most Creative Use of Technology". For more information, visit http://www.theapprenticeprogram.com and http://www.thesimplifiers.com or call (512) 965-6248 (US offices) or +044 (0)7907 018032 (UK offices).
KICKSTARTER CAMPAIGN URL:
http://www.bit.ly/letsdothisKS