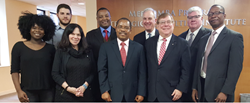 Dobbs Ferry, New York (PRWEB) January 09, 2016
The government of Tanzania has engaged Mercy College's Strategic Consulting Institute (SCI) to provide advice for the development of a tertiary health care center in the East-African country.
Tanzanian officials are looking to see what it would take to build a first-class health care center where basic and more advanced procedures could be performed and where patients could benefit from a resort-like setting during recovery. The overall idea is to build an infrastructure that fits in with Tanzania's global attractiveness as a pristine eco-tourism destination. The project also seeks to address the general shortage of quality health care in a continent that accounts for more than 16 percent of the global population.
On the project, Strategic Consulting Institute Executive Director Dr. Ray Manganelli said: "The idea is a good one but one that needs some fleshing out. That is where the SCI will come in. We will perform a feasibility study of the initiative which entails evaluating the opportunity for a tertiary health care center in the region, and providing guidance to the sponsors on how to best position the project to prospective stakeholders. We are excited to work on this project with a team that has ample experience in Africa."
This project with Tanzania will be SCI's first outside the United States. Manganelli added: "It provides a unique opportunity to showcase the competency of our SCI students when undertaking a complex assignment and addressing one of the region's utmost priorities: closing the supply/demand gap in the health care sector of a continent that is at the early stage of explosive growth driven by its demographics."
The SCI team will consist of six MBA students and will be under the oversight of Manganelli, and led by graduate business Professors Manuel Ron, Victor Petenkemani and James Ryan.
The SCI engagement started in November 2015. It is limited in scope to the first phase of the project, the feasibility study phase, with a completion date set for March 2016.