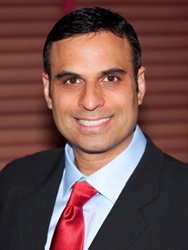 Cicero, IL (PRWEB) January 07, 2016
Patients with sensitive teeth from receding gums are encouraged to schedule a consultation with Dr. Amarik Singh and find out if they are eligible to receive the Chao Pinhole® Surgical Technique. Dr. Singh is proud to offer a low-pain alternative to invasive surgical procedures for patients with gum recession in Cicero, IL.
Sensitive teeth is just one symptom of gum recession, and Dr. Singh encourages patients who have this symptom to seek treatment quickly. Those who have gum recession in Cicero, IL, may not even realize that they have the condition until it develops painful and visually noticeable symptoms. If proper care is not quickly received, untreated gum recession could eventually lead to tooth loss and decay. While receding gums have traditionally been treated with invasive methods, including gum grafting, the Chao Pinhole® Surgical Technique reduces much of the discomfort associated with treatment for receding gums.
When Dr. Singh performs the Chao Pinhole® Surgical Technique, he creates a small hole in the gums with a needle. Special instruments are subsequently inserted through the hole and carefully maneuvered to loosen the gum tissue from the teeth. When the gums are sufficiently loosened, they can then be gently manipulated over the surface of the teeth. No large incisions are made during the procedure, and no oral tissue is grafted into the receded area. Patients who receive the Chao Pinhole® Surgical Technique do not need to receive stitches, which improves their comfort level during recovery. Healing time is minimal, and patients are subjected to minimal bleeding during the procedure and the associated recovery period.
Dr. Singh is proud to give patients with gum recession in Cicero, IL an alternative to oftentimes painful gum grafting procedures. Those who decide to receive the Chao Pinhole® Surgical Technique often experience an immediate improvement in the visual appeal of their smile, as well as reduced discomfort due to sensitive teeth. Appointments can be scheduled by calling Dr. Singh's practice.
About the Doctor
Periodontal Implant Associates is a periodontal practice offering personalized dental care for patients in Chicago, IL. After graduating from Northwestern University Dental School, Dr. Amarik Singh went on to obtain his Specialty Certificate in Periodontics and earn his Master's from Northwestern University. Dr. Singh is deeply committed to continuing education and prides himself on remaining on the cutting-edge of the newest techniques and technology in dentistry. Dr. Singh is part of an elite group of dental professionals at the forefront of the Chao Pinhole® Surgical Technique (PST®), a revolutionary new approach to repairing gum recession. To learn more about the periodontal services available at Periodontal Implant Associates, please visit http://www.pidentists.com or call 630-424-9404.