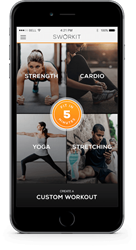 New York, New York (PRWEB) January 07, 2016
Sworkit launches a new Premium subscription upgrade for Android and iOS devices, providing fans of the popular free fitness app with a customizable workout experience and new Ask a Trainer feature.
Sworkit, which stands for Simply Work It, is the most comprehensive exercise app on the market featuring in depth routines created and demonstrated by personal trainers. Its specialized workouts can be completed on-the-go to meet the demands of any schedule, anywhere.
With their new Sworkit Premium option, users still get to experience unlimited strength, stretching, and cardio workouts, video demonstrations, and verbal instructions for free. However, they can now subscribe to a whole host of exciting options to take their training further, including:

the Ask a Trainer feature, which allows subscribers get personalized answers and advice from real personal trainers;
ad-free workouts;
customizable exercise intervals;
the ability to save unlimited custom workouts as well as additional editing capabilities; and
exclusive pre-built workouts.
Unlike other apps that alter their free model when upgrading, Sworkit is not changing at all--they are just expanding.
Users can still choose to enjoy all the free workouts Sworkit has to offer or they can choose to upgrade to Sworkit Premium, a subscription service built within the free app, designed to help fitness enthusiasts tap into their full potential with greater ease for only $2.99 per month.
Nexercise launched Sworkit in 2014 to deliver on-demand, video exercise programs that can be done anywhere, anytime. Its development team is made up of an ACSM certified personal trainer, US Army Reserves captain, and software developer, whose unique backgrounds gave them insight into every facet of the fitness industry. Their app has garnered over 12 million users and has recently launched a popular fitness app for kids called Sworkit Kids.
Sworkit has been featured in Lifehacker, Women's Running, Gizmodo, Mashable, Army Times, Brit+Co, Elle Magazine, Shape and more, and received the DC TechDay Techie Award for Best in Health Tech in 2014.
For samples or additional information, please visit http://www.sworkit.com.
About Veteran PR:
Rooted in the belief that hard work coupled with honesty and integrity is the key to any success, Veteran PR strives to help companies build their brand awareness through strategic and effective Public Relations Campaigns and Social Media Marketing Efforts. Veteran PR launched in 2015 after military veteran, Staff Sergeant Jason Thomas, teamed up with his wife and seasoned PR professional, Nicki Thomas. Together their vision is to help small businesses, especially veteran owned businesses, build their brand awareness with a PR Company business owners can trust.