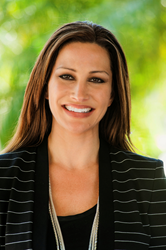 Largo, Fla. (PRWEB) January 07, 2016
Nicole Spinelli, director of The WISE Group (Women Inspiring, Supporting, and Educating) of Lincoln Financial Network, recently attended the annual Barron's Top Women Advisors Summit, an exclusive conference aimed at sharing best practices, generating new ideas across the industry, and advocating the value of advice to the investing public. Held on December 2 – December 4 in Palm Beach, Fla., the conference was attended by Barron's "Top 100 Women Financial Advisors" and a select group of 400 additional female advisors representing the top level of performers within participating firms.
Attendees participated in peer-led sessions sharing wealth management strategies and heard from recognized keynote speakers from both inside and outside the industry.
As director of The WISE Group, Spinelli works to drive the group's core objectives, which center on inspiring women to pursue opportunities in financial services to increase the overall number of female advisors in the industry; supporting Lincoln's female advisors in the growth and development of their practice; and educating female clients on the importance of comprehensive financial planning.
Spinelli joined Lincoln from Raymond James Financial in St. Petersburg, Fla., where she held various roles with the Network for Women Advisors beginning in 2001. From 2010 – 2015, she served as the vice president and director for the Network of Women Advisors, focusing on growth through the retention of current advisors, education of advisors to support their practice growth and development, and attraction of new advisors to the firm through recruitment. Spinelli holds a bachelor of arts degree in women's studies from The Evergreen State College in Olympia, Wash.
About Lincoln Financial Network
Lincoln Financial Network is the marketing name for the retail sales and financial planning affiliates of Lincoln Financial Group and includes Lincoln Financial Advisors Corp. and Lincoln Financial Securities Corp., both members of FINRA and SIPC. Consisting of approximately 8,500 representatives, agents, and full-service financial planners throughout the United States, Lincoln Financial Network professionals can offer financial planning and advisory services, retirement services, life products, annuities, investments, and trust services to affluent individuals, business owners, and families.