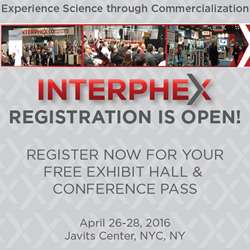 We look forward to attending this invaluable conference every year so that we are on the cutting edge of trends and issues relating to container leak testing
New York (PRWEB) February 29, 2016
Whitehouse Laboratories, A Division of Albany Molecular Research Inc., is excited to announce that it will again exhibit and participate at INTERPHEX 2016. Sponsored by the Parenteral Drug Association (PDA), the New York Interphex Show will open on April 26th and run through April 28th. With over 12,000 industry professionals in attendance and more than 600 exhibitors, the educational and networking opportunities are extremely valuable. INTERPHEX is viewed as the key show for all of the latest information on new products, technologies and other key developments surrounding the bio pharmaceutical industry.
"We look forward to attending this invaluable conference every year so that we are on the cutting edge of trends and issues relating to container leak testing," commented Mark Stier, General Manager of Whitehouse Laboratories. "As a leading expert in the area of testing specific to USP 1207, attending Interphex provides us an opportunity to share insights into best practices to evaluate and manage a product's development and approval to insure regulatory compliance for package integrity."
"We are delighted that Whitehouse Laboratories will again showcase their services to key decision makers at INTERPHEX 2016," said Ed Several, Senior Vice President and General Manager, INTERPHEX. "With the ever increasing need to outsource testing services, Whitehouse' full array of analytical testing laboratory services addresses the complex quality and safety needs of both pharmaceutical and medical device customers who attend the event. Their exhibit is another example of how INTERPHEX provides access to industry leading companies who offer cost effective solutions to develop, test and manufacture pharmaceutical and biotech products and medical devices."
Interphex rewards attendees with a full agenda that includes exhibitions, technical education sessions, workshops, partnering opportunities, and networking events. Exciting show features such as the Pharmaceutical Technology's Keynote Series, INTERPHEX LIVE, INTERPHEX Exhibitor Awards and the 3D Printing education/demo forum make this conference a can't miss destination.
Registration can be completed at the following link.
About Whitehouse Laboratories
The leader in testing, Whitehouse Labs, a division of Albany Molecular Research Inc., offers comprehensive analytical services providing support for manufacturing from development to market. From analytical chemistry and material qualification to packaging optimization, Whitehouse Laboratories is the testing partner for the world's leading Pharmaceutical, Biotechnology, Medical Device, Life Sciences and Consumer Products organizations.
About INTERPHEX
INTERPHEX (International Pharmaceutical Expo), sponsored by Parenteral Drug Association (PDA), is the single source for complete biopharmaceutical development and manufacturing solutions to safely and cost effectively process all dosage forms for life-enhancing drugs. It brings over 12,000 global pharmaceutical and biotechnology professionals together with 600+ suppliers via 300,000 sf of event space through a unique combination of exhibition, education, workshops, partnering opportunities, and networking events. INTERPHEX offers annual national and international industry events and educational opportunities around the world.