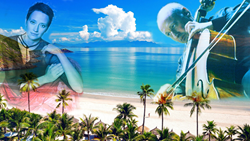 "brilliantly accomplished virtuoso- an embodiment of interpretive and executive music-making at its rarefied best" - Harris Goldsmith
Palm Beach, Florida (PRWEB) January 11, 2016
InterHarmony Palm Beach Series: Misha Quint, cello
InterHarmony® International Music Festival opens a new concert series in the most exciting location of Palm Beach, Florida area. The inaugural concert will feature Founder and Music Director Misha Quint in a cello recital on January 30, 2016 at 7PM at Palm Beaches Theatre. The pianist for the evening will be Irina Nuzova. They will present a program of music that pushes the limits of the cello repertoire, questioning the boundaries between instruments, genres and cultures. The InterHarmony Palm Beach Series continues on March 13th, with a chamber music concert featuring pearls of the piano trio repertoire with Misha Quint (cello), with special guests Andrzej Grabiec (violin) and Gerald Robbins (piano). For tickets call the box office at 561-362-0003 or order online with credit card at theatre.pbifilmfest.org.
About InterHarmony® International Music Festival
In existence for almost 2 decades, InterHarmony has become one of the important festivals worldwide, and the fastest growing. Anchored in Tuscany, Italy and Bavaria, Germany each summer, the festival boasts a new Outstanding Guest Artist Series that features stars such as Alfred Brendel and Vadim Repin. Now, fresh from a run at the InterHarmony Concert Series at Carnegie Hall in New York, IIMF's founder and cellist Misha Quint brings some of the best of these programs with him to Palm Beach.
About the Program: Mirages et Passages
Classical music is anything but static. With time, technique and, above all, inspiration, what was once unimaginable becomes a reality on stage. Join Quint and Nuzova as they show how the possibilities of cello music have expanded by incorporating other repertoires and cultures in a search for beauty, wherever it might be. The January 30 concert features pieces originally written for other instruments (like Schnittke's Suite in an Old Style and the Franck Sonata), music from ballets and operas (Prokofiev's "Adagio" from Cinderella and Rimsky-Korsakov's Flight of the Bumblebee), and works of cultural cross-pollination (Shchedrin's Russian tango, "In the Style of Albéniz," and Bruch's Kol Nidrei, which enriched the Romantic idiom with Jewish melodies). On March 13th, he returns with Grabiec and Robbins to offer a stormy program of "Quintessential Trios" by Dvořák, Rachmaninoff and Shostakovich in a Sunday matinee concert at 5pm.
The Music
Davidov's Romance sans Paroles is a work of pure lyricism, which stakes the cello's claim to the territory of the human voice itself. Franck's Sonata in A Major, written for the violin, is an even greater success on the cello, thanks to its dramatic, contrasting colors. Schnittke's Suite in the Old Style, an elegant collection of pastoral, almost Baroque dances, lets only a few dark hints escape its innocent mask. In Bruch's Kol Nidrei, the cello imitates the penitential sigh of a hazzan chanting in the synagogue. In the Style of Albéniz, Shchedrin creates "a kind of a 'tangissimo,'" cooking Albéniz's music down into something passionate, free and wild. Prokofiev's arrangement of a duet from his popular ballet Cinderella transforms its emotional intimacy into a dance between musicians. Rimsky-Korsakov's Flight of the Bumblebee, vividly realistic and stunningly difficult, has become practically synonymous with virtuosity.