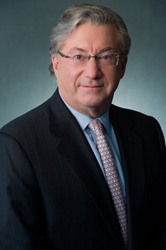 "I am excited to make sure music education is in as many New York City schools as possible, so all children can receive its positive impact in their lives." - Richard Bernstein
New York, NY (PRWEB) January 13, 2016
Education Through Music (ETM), a leading nonprofit dedicated to bringing quality music education programs to New York City schools, announces that Richard Bernstein, Executive Vice Chairman at Cushman & Wakefield, has been elected Chairman of the Board of Directors. He replaces Michael Schaefer, a long-time member of the Board who served as Chairman for the past seven years.
"Education Through Music is very fortunate to have Richard Bernstein chair the Board," said Kathy Damkohler, Executive Director of Education Through Music. "He has played a critical role in helping to raise ETM's profile, and provide leadership in strategic planning and fundraising. I would also like to take the opportunity to thank Michael Schaefer, who served as Chair of the ETM Board of Directors from 2008 to 2015. He has supported significant growth of ETM throughout his tenure, and helped to develop a vibrant, committed Board of Directors dedicated to providing quality music education as a core subject for all children."
"My own personal experience with music education has helped to shape my life and my career in very positive ways, including my personal dedication and commitment to excellence," said Richard Bernstein. "I am excited to work to make sure music education is in as many New York City schools as possible, so all children can receive its positive impact in their lives."
"I am honored to have been able to lead the ETM Board of Directors, and look forward to continuing to serve on the ETM Board. Richard Bernstein is the ideal choice to transition ETM to the next stages of growth and success in the coming years," said Michael Schaefer.
Richard Bernstein joined the ETM Board of Directors in 2013. Mr. Bernstein has over 20 years of commercial real estate experience, mainly focused on tenant and owner representation. He is a skilled real estate negotiator who is particularly adept at understanding market issues and trends. He was named by The Real Deal a top 20 "Power Broker" in New York City, having closed over 500,000 square feet of transactions in 2011, as well as being named to the top 10 tenant representation list, by volume. Mr. Bernstein was also named to the Real Estate Forum's 2012 Top Brokers in New York.
In addition to serving on the ETM Board of Directors, he also is a Board Member of the Israeli Chamber Project and the Hoff Barthleson Music School, and a Trustee of the City of White Plains School District. He received a bachelor's degree in economics from Hofstra University.
About Education Through Music
The ETM model currently serves nearly 27,000 students in inner-city schools in New York City, and our model reaches another 10,000 children through the work of our licensed affiliate organization in Los Angeles. ETM's comprehensive, sustainable music education network has garnered the support of corporations, public policy makers and foundations, including The Music Man Foundation, CMA Foundation, The Jerome L. Greene Foundation, Ford Foundation and D'Addario Foundation. For more information visit http://www.ETMonline.org