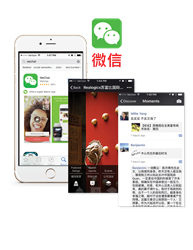 Seattle, WA (PRWEB) January 07, 2016
Executives of Realogics Sotheby's International Realty (RSIR) and adSage have developed an exclusive real estate portal for WeChat – a popular mobile device communication app that has attracted more than 600 million subscribers, mostly in China, since its inception in 2012. Now a global sensation, the multimedia platform allows communications to penetrate the firewall in China and can share messages virally between followers.
"This app will help us showcase our Pacific Northwest real estate and lifestyle real time overseas," said Dean Jones, President and CEO of Realogics Sotheby's International Realty. "It was a necessary investment to encourage communications between our Asia Services Group and connect our local brokers and their listing clients with a world of opportunity."
According to Wikipedia: WeChat provides text messaging, hold-to-talk voice messaging, broadcast (one-to-many) messaging, video conferencing, video games, sharing of photographs and videos, and location sharing. It can exchange contacts with people nearby via Bluetooth, as well as providing various features for contacting people at random if desired (if these are open to it), next to integration with social networking services such as those run by Facebook and Tencent QQ. Photographs may also be embellished with filters and captions, and a machine translation service is available.
"We are proud to develop this WeChat platform and host numerous campaigns in China on behalf of Realogics Sotheby's International Realty," said Gordon (Zhaohui) Tang PH.D, Chairman of adSage. "This strategy is very clever and timely as the Pacific Northwest has become the next gateway market for foreign direct investment and immigration from Asia, especially from China."
Tang, a former Microsoft executive, is leading adSage with offices in Seattle (Bellevue), San Francisco, Beijing, Shanghai, Wuxi and Shenzhen. The firm is one of the major digital advertising agencies in China providing full scale bilingual agency services supporting over 1,000 global clients' marketing campaign running on Baidu (China's equivalent to Google) and other major China internet media. adSage's agency services cover SEM, SEO, Display Advertising and Mobile Advertising in China.
RSIR's real estate portal includes bios on its members of the Asia Services Group, featured property profiles, market reports, events, news articles and newsletters, videos and information on the company with communications available in several languages including Mandarin and English. Additionally, the platform is host to the new all-Mandarin "Seattle Luxury Living" magazine published by Seattle Magazine's Tiger Oak Publications, which includes content on the lifestyle trends and real estate opportunities available in the Pacific Northwest.
Jones has appointed William Hillis as Editor for RSIR's Research Department and a publisher of reports and other content to be posted on the WeChat platform. Hillis is a former editor at the Shanghai offices of Big Four consulting firms Deloitte and KPMG, and previously worked as an analyst in real estate policy-related positions in the Washington State government at Olympia. He has published articles in China Daily, thought leadership at Deloitte, and official proceedings from Bo'ao Forum for Asia, an international economic forum featuring heads of state and other leading dignitaries worldwide.
"Having grown up in the Pacific Northwest and lived in Shanghai for more than a decade, I can certainly appreciate the opportunity that RSIR and adSage are pursing," said Hillis. "At the same time, I can also understand why so many upper and middle class Chinese nationals are targeting the Seattle/ Bellevue region. I do believe this is just the beginning and creative communications tools like the WeChat app are going to be an effective resource for sharing information in real time."
A digital presentation of the WeChat app and the download link can be found at http://www.RSIR.com/blog.
###
About Realogics Sotheby's International Realty (http://www.RSIR.com) -- Artfully uniting extraordinary homes with extraordinary lives, Realogics Sotheby's International Realty is a leading global sales and marketing brokerage firm in the Pacific Northwest. Recognized by the Puget Sound Business Journal amongst the fastest-growing private companies in Washington State for 2012, 2013, 2014 and 2015, the boutique real estate firm of 140+ brokers consistently ranks among the top producing firms within the markets that it serves with branches in downtown Seattle, Bainbridge Island, Kirkland and now Issaquah.
About adSage (http://www.adSage.com) – adSage is a China leading digital advertising technology company founded in 2007. It has over 600 professionals with 6 locations across China and U.S. With a strong technology background and client service experience, adSage helps over 1000 advertisers to manage performance advertising campaigns cross search, mobile and social media. It is one of the largest certified partners of Baidu. adSage also partners with many global leading internet companies such as Tencent, Sina, Microsoft and Google. The company offers end-to-end performance marketing services cross channel, cross device and cross country. For more information, please visit http://www.adsage.com.
EDITORS NOTES: For high-resolution photography contact Andrea Savage at 206.448.5752 or email Andrea.Savage(at)RSIR.com.