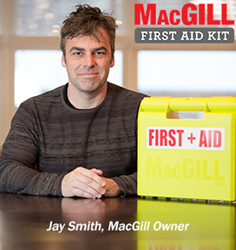 CHICAGO, Illinois (PRWEB) January 11, 2016
A new comprehensive first aid kit filled with the highest quality supplies hit the online market this week at http://www.macgillfirstaidkit.com. Launched by MacGill School Nursing Supply Company, the kit's components were custom selected from the supplies the company has been providing to school nurses across the country for over 100 years. The creation of the kit has been a "build a better mousetrap" inspiration for MacGill owner and dad, Jay Smith.
As Jay was packing for a family trip to Wisconsin, he couldn't find a first aid kit that contained all the components he felt his family might need. Within the inventory at MacGill, Jay thought he'd find the perfect first aid kit for his family among the kits available to the school nurses his company has been serving since 1904. To his surprise, he was wrong. So he went to work.
"I dumped the contents of each kit onto my desk, trying to find one that would meet my family's needs. Every kit came up short. I wanted metal tweezers, like the ones our nurses order. I needed bandages that actually stay on and gloves that were truly latex-free," explained Jay. "Because I know from our nurses what are truly better products, I wanted items like aerosol wound spray, which is so superior to the other products in that category, I had to add them too. After several more trips to search our warehouse shelves, I'd finally cobbled together a first aid kit I trusted to treat my family."
Finally happy with his newly created kit, he was inspired to provide the same comprehensive kit filled with top products at an affordable price to all families. "That's when it dawned on me: with MacGill's access to the highest-quality, most cutting-edge supplies on the market, why wouldn't we offer a well-curated, more complete first aid kit for families?"
The MacGill First Aid Kit, retailing for $70.00 with free shipping, is sold exclusively at http://www.macgillfirstaidkit.com. It contains multiple types of fabric bandages and dressings, BleedCease® Blood Coagulant, sting cure, and high quality metal tweezers and scissors. Refills and special products like non-contact thermometers and fingertip pulse oximeters are also available through the website.
###
ABOUT MACGILL FIRST AID
MacGill First Aid, a subsidiary of MacGill Discount Nursing Supplies, has been providing school nurses with medical supplies since 1904. For more information, please visit http://www.macgillfirstaidkit.com and http://www.macgill.com.
FOR INTERVIEW AND PHOTO REQUESTS:
Deb Parkerson
ODEA
630-935-1305
deb(at)teamodea(dot)com