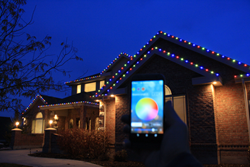 We are thrilled with the incredible response and excitement EverLights has generated
Salt Lake City, UT (PRWEB) January 07, 2016
EverLights, the revolutionary permanent home lighting solution has wrapped up its very successful Kickstarter campaign raising a final total of $111,000. EverLights will keep the momentum going by continuing to offer pre-market discounted orders to consumers on its new campaign page on Indiegogo InDemand. InDemand is a platform for successful crowdfunding campaigns to continue to meet consumer demand and take pre-orders from new backers.
EverLights will also be exhibiting at the prestigious International Builders Show in Las Vegas January 19-21, 2016. Those interested in seeing EverLights in person can visit booth S3015 at any time during conference hours.
"We are thrilled with the incredible response and excitement EverLights has generated," said EverLights Co-founder Ross Harke. "We're very happy the product we've worked tirelessly on is going to make people's lives easier and safer."
EverLights are invisible by day and radiant at night, no matter what the season. Unlike traditional Christmas lights, EverLights are permanently installed LED lights that can be changed at the click of a button on a smartphone app, to celebrate all occasions like Thanksgiving, birthday parties, Halloween, Valentine's Day, weddings, 4th of July and even light up your home in your favorite team's colors on game days.
In just over a month on Kickstarter, EverLights became a hit around the world because it's a smarter, safer, more affordable, and more colorful solution to lighting your home.
"We have been impressed with the amount of international attention we have received from Canada, to Australia, all the way to Ireland," added EverLights Co-Founder Darren Taylor. "It's exciting to think about EverLights spanning the globe."
EverLights will forever eliminate the stress and danger of hanging exterior lights and then having to take them down again. No more ladders and no more big tacky bulbs to look at when they're not turned on - EverLights have a stealth design that are only seen when you want to show your colors.
EverLights come with a simple starter kit to make installation a breeze. Features include:

50,000 hours of life expectancy for each LED light
Affordable and energy efficient
Super bright when on, stealth when off
They look perfectly straight (no drooping)
Control every light, color and pattern from your smartphone
Safe and permanent
Weather resistant and designed for year round use
EverLights are now available at special pre-order pricing on Indiegogo InDemand.
About EverLights
Life is full of many exciting events, so why not celebrate all great occasions in style. Hosting a game-day party - light up your home with your team's colors. If you're having a birthday, baby or bridal shower - customize a color coordinated light show. EverLights also make a perfect accent for wedding receptions and other commercial décor. Every occasion can be custom lit. While your neighbors struggle putting up Christmas lights like Chevy Chase in "Christmas Vacation" you'll never, ever have to put up or take down lights again. It's time to light up the night. Every color. Every season. EverLights