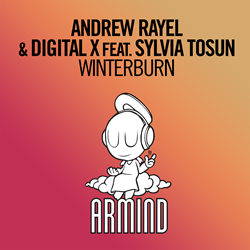 "Winterburn" may cause club-goers to experience their own individual dancefloor epiphanies.
New York, NY (PRWEB) January 15, 2016
Prodigy. Wunderkind. Mozart. These are all words used to describe the electronic dance music DJ and producer, Andrew Rayel. Andrew Rayel & Digital X featuring Sylvia Tosun, "Winterburn" (Armind) is out now. "Winterburn" is the first single from the second and forthcoming full-length studio album by Andrew Rayel for release in 2016.
The Original Mix of "Winterburn" approaches stealthily with an oozing, liquid bassline that quickly builds to a whopping climax with tweaky, dissonant horns. Sylvia Tosun's voice sings, "I am your winter," with a full-throated resonance set against Rayel's all-enveloping synths and his signature piano riff. Rayel received an enthusiastic reaction to this song when he debuted it at the massive Transmission festival at the O2 Arena in Prague recently and the song conjures an icy goddess lording over all that's forbidden and pristine. A bold 4/4 bassline throbs with abandon as club-goers spin 'round in a blinding haze of colored lights and smiling faces. The Radio Edit of "Winterburn" slices unflinchingly to the core of the song with an explosive, seductively booming low-end that grabs the listener by the ears. The result is nothing short of a dancefloor epiphany.
Hailed by Armin van Buuren as "the future of trance music," Andrew Rayel (real name: Andrei Rata) is a classically trained electronic dance music (EDM) DJ and producer from Moldova often referred to as the "modern-day Mozart." That he is a musical genius is no doubt, though Rayel himself deflects the flattery. With a single-minded focus on composing the most influential electronic dance music he can, Rayel is his own harshest critic. His last full-length studio album, Find Your Harmony (Armada Music), was a critically praised collection of 18 tracks characterized by hit after hit. Noteworthy singles by Andrew Rayel include "Dark Warrior," "EIFORYA" with Armin van Buuren, "Daylight" featuring Jonny Rose and "Chased" with Mark Sixma. As a live DJ, Rayel gives a high-octane, physically energetic performance that is consistent with his young age. He has performed at Tomorrowland in Belgium; Ultra Music Festival in Miami on the A State of Trance (ASOT) stage; Creamfields in the UK; Electric Daisy Carnival (EDC) in Las Vegas, as well as at glitzy nightclubs the world over.
An award-winning and celebrated singer/songwriter able to encompass multiple genres of music with ease, Sylvia Tosun is an American artist and performer whose preference lies with the sound of electronic dance music. A classically trained soprano accepted into New York's prestigious Juilliard School of Music at age 15, Tosun's voice is ideally suited to Rayel's sound, as heard in their collaborations, "There Are No Words" (from Rayel's Find Your Harmony album) and "We Bring The Love." Tosun was for a time a lead vocalist for the multi-platinum selling group, Trans-Siberian Orchestra, and in 2006 she performed alongside Alicia Keys and Cyndi Lauper at the Great Wall of China. Tosun's skills as a songwriter have merited her a BMI Songwriters Hall of Fame Award and five USA Songwriting Awards, and she is an unprecedented two-time recipient of the USO's Ambassador to Goodwill Award. Rayel's remix of "An Angel's Love" earned great support from van Buuren and other noteworthy songs featuring Tosun include "Underlying Feeling," "World Keeps Turning," "Above All," and "Push and Pull," the latter peaking at the #1 chart position on the 2010 Billboard Club Chart.
Digital X (real name: Peter Holub) is a Ukrainian DJ and producer who debuted his music on award-winning record label, Armada Music, in 2013, with an EP titled, Raptor/Stealth. The most recent release by Digital X is the EP, Legioner/Valhalla (A State of Trance), in 2015.
Listen to Andrew Rayel & Digital X featuring Sylvia Tosun, "Winterburn," here: https://Armind.lnk.to/ARDXSTWinterburn
For more information contact EMILY TAN Media Relations (U.S.), +1(917) 318-3758, EmilyEmilyTan(at)aol(dot)com. Visit http://www.AndrewRayel.com, http://www.SylviaTosun.com and http://www.ArmadaMusic.com. Follow EMILY TAN Media Relations on Twitter @EmilyEmilyTan.