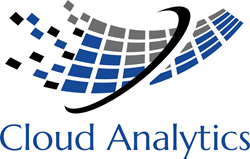 "The core big data enabled platform that CloudAnalytics utilizes today is already enabling more than 10,000 stores to collect data and provide deep insights to retailers and brand companies."
SAN FRANCISCO, CA (PRWEB) January 10, 2016
CloudAnalytics is pleased to announce its recent launch focused on retailers and brand companies. CloudAnalytics helps retailers by empowering stores and stores management with real-time store intelligence utilizing mobile applications. These applications enhance store conversion and help shape the customer experience in stores by ensuring the right employees serve customers at the best times, based on overall volume and quality of traffic, as well as overall marketing and merchandising campaigns. CloudAnalytics leads the way in improving retail store productivity.
The CloudAnalytics apps deliver a clear understanding of store traffic, customer in-store behavior, and store and associate productivity where it will make a real difference – to the store teams. We combine data from a wide variety of sources, including POS, IoT devices and syndicated data, and make it easy-to-use and accessible through all types of mobile devices, emulating a familiar personal mobile experience.
Our clients improve the performance of their stores by providing a better understanding of the store's critical KPIs to each store team. They utilize the collaboration feature to improve and accelerate internal communications. They can also collaborate on a real time basis with merchandising and marketing. They identify opportunities by location and by associate to implement changes and measure results with a focus on continuous improvement.
Our clients also strengthen each store's understanding of their KPIs to help them improve their scheduling and balancing of labor hours, driving improved customer service levels and conversion rates. They further utilize customer in-store behavior patterns, just as online retailers can do, to adjust store layouts, displays and product positioning to maximize customer engagement and collaborate with merchandising and marketing teams. Finally, they engage their customers one-on-one with personalized offers and product recommendations based on the customer's stated preferences and prior purchases.
Are you visiting NRF in January 2016? We are booking demonstrations now. Click here to book a demonstration at our NRF Big Show 2016 Booth #2125.
About the NRF Big Show 2016
NRF's Annual Convention & EXPO earned the nickname "Retail's BIG Show" years ago and because the name was so appropriate, it stuck. Today, Retail's BIG Show is NRF's flagship industry event held annually in New York City. The four-day event offers unparalleled education, collegial networking, and an enormous EXPO Hall full of technologies and solutions.
After more than a century, Retail's BIG Show is still the place - the only place - where you can see and experience all things Retail. It is truly one-stop-shopping for industry professionals from around the world.
About CloudAnalytics
CloudAnalytics is leading the way in bringing consumer experience to the retail enterprise users through its set of mobile apps and providing comprehensive in-store productivity applications that store teams can quickly use to increase conversion and actively engage with their customers and collaborate with their merchandising and marketing counterparts. We provide a full set of solutions that empower store management with deeper insights in hours vs. weeks. We combine data from a wide variety of sources, including POS, IOT devices and syndicated data, and make it easy-to-use and accessible through all types of mobile devices, emulating the user's personal mobile experience.
The core big data enabled platform that CloudAnalytics utilizes today is already enabling more than 10,000 stores to collect data and provide deep insights to retailers and brand companies. For more information, please visit http://www.cloudanalyticsapp.com/
Media Contact:
Sheemah Ohanian
CloudAnalytics
201 Mission Street, 12th Floor
San Francisco, CA 94105
(415) 432-4423
sohanian(at)cloudanalyticsapp.com