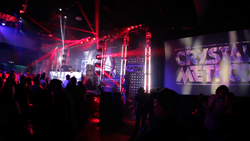 We know what it takes to make a truly remarkable live visual experience
Chicago IL. (PRWEB) January 07, 2016
Chicago-based 3D projection media company Chicago Projection Mapping (CPM) announced today the release of new speciality VJ, in response to a successful live collaboration with MKENYEVE, Milwaukee's largest new year's party. This will bring CPM's history of performing with top-tier dance and EDM artists like Lil Jon, Sky Blu of LFMAO, and The Crystal Method to a new generation of venues and artists. Video documentation of the New Year festivities are is available at https://www.youtube.com/watch?v=GvCr7IYxH0E, and groups interested in creating their own visual experience are encouraged to email Info(at)ChicagoProjectionMapping(dot)com.
Live visual performance is a growing segment of mapping requests, designed to add impact and value to events and performances. Oftentimes, a venue has video/LED/projection system in place, but is left playing simple, repetitive content - or an A/V rental company has access to extensive visual hardware, but lacks a trained operator who can perform on short notice with a well-known Top 40 artist. Chicago Projection Mapping's newly focused VJ services elevates the potential of the visual experience, and connects trained operators with collaborators and venues across the world.
These new services are an extension of Chicago Projection Mapping's three years of existing live media packages. The CPM team has collaborated in real-time with some of the biggest names in EDM and dance music, including chart-smashing hip-hop/dance performer Lil Jon, in addition to members of LFMAO, The Crystal Method, Zen Freeman, Manufactured Superstars, LA Riots, and many more. Interested clients and venues can select and combine a number of different visual styles for their live performance, including technology/vector, fractally-inspirated, geometric 3D, corporate casual, and custom-designed visual experiences. Additionally, CPM uses custom-built media servers for exceptional performance, allowing over 15 independent visual sources to be controlled simultaneously, all at no added cost.
"We know what it takes to make a truly remarkable live visual experience," said J Matthew Nix, Project Lead and principal VJ for Chicago Projection Mapping. "Week after week, our team has created top-tier visual experiences, on par with music festivals like Coachella or Lollapalooza. But unlike those festivals, we can create our experience in under a night, and generate the effects entirely in real time. It's like speed-painting with light at 60 frames per second."
CPM's Live VJ services are only a growing segment of many sectors of coverage. From multi-story building projection, to live events / trade shows / keynotes, to small point-of-purchase displays, Chicago Projection Mapping remains one of the nation's leaders in 3D Projection Mapping and media creation. Contact us today to learn more about how Chicago Projection Mapping's live visual services can take your event to the next level.
Main Chicago Offices 630.620.0000
Email us at Info(at)ChicagoProjectionMapping(dot)com
CPM capabilities
3D and 4D Video Projection Mapping Design
Temporary and Permanent Installation
Custom Interactive Design Capabilities
Consultation on All Aspects of Mapping Process
Show Design and Integration
In-House 2D and 3D Animation Team
Asset Reconfiguration for Brand Consistency
Integration with all major video and media formats
Custom Media Servers for flawless operation
Experience with all standard mapping hardware and software
Partnerships with regional and national hardware vendors
On-Site Setup, Mapping, and Event Operation
Remote access and operation for permanent installations
For more information, please visit http://www.ChicagoProjectionMapping.com, or call 630-620-0000.
About Chicago Projection Mapping: Based in Chicago, IL, Chicago Projection Mapping is a full service content creation and 3D projection mapping company, serving the corporate, event, meeting, and convention sectors. For more information, please visit http://www.ChicagoProjectionMapping.com, or call 630-620-0000.