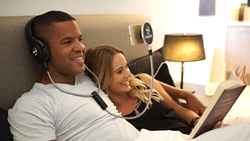 I was lying on my bed, watching a video on my phone when I thought why has no one come up with something to hold the phone up
Los Angeles, CA (PRWEB) January 08, 2016
Move over Selfie Stick, HeadPal is the hands-free device of the future.
HeadPal is a brand new device that allows users to use their smartphone in 3 different formats giving people the option to relax comfortably while taking calls, using Skype or watching Netflix. The company is currently raising funds on Kickstarter to bring the product to life.
HeadPal solves the problem everyone has experienced trying to get comfortable while on our smartphones; neck pain, arm soreness, and blurry eyes from a screen held too close. "I was lying on my bed, watching a video on my phone when I thought why has no one come up with something to hold the phone up," says founder Adam Agrestal. It was then the HeadPal was born.
The 3-in-1 Device is versatile for every situation. Head Mount Mode allows users to wear the included headphones streaming audio via bluetooth while the phone "floats" in front of user's face. Table Mount Mode lets the smartphone stand alone in a fixed position for easy viewing. Finally, Selfie Stick Mode allows users to hold their phone out for selfies.
To transition between the modes, the components are pulled apart by detaching the magnetic plugs and the tubing molded to desired shape. The HeadPal includes detachable headphones allowing for use with or without the included accessory.
At its core, HeadPal represents the natural evolution of the selfie stick, whether sitting back on the couch watching a movie, or watching the morning news at the kitchen table, HeadPal is the hands-free device the world's been waiting for.
"'Our objective is to solve a common problem with smart phone use and that is fatigue, we want to alleviate that problem and provide a handy accessory," added Agrestal.
All HeadPal purchases come with 1 x Bluetooth over-ear HeadPal Headphones, 1 x Reconfigurable Headset Connection System, 1 x Reconfigurable Phone Mount, 2 x Magnetic Phone Stickers.
HeadPal starts at $49 on Kickstarter for early backers with multiple quantities available at an additional cost.
The HeadPal is now live and available for purchase on Kickstarter here: https://www.kickstarter.com/projects/75170575/headpal-the-smartphone-accessory-you-have-been-wai
About HeadPal
HeadPal was founded in October 2014 by Adam Agresta. Following extensive research and development the first prototype of HeadPal was produced in April 2015. Adam Agresta visited CES in China to talk to manufactures about HeadPal in May 2015 and a second prototype followed in July 2015. The HeadPal product will be launched via a Kickstarter campaign on 21 December 2015.
For more information on HeadPal visit: http://headpal.com.au
###