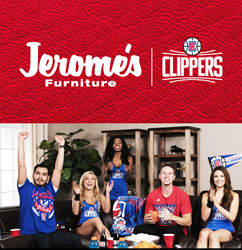 "Partnering with the Clippers, proving top of the line furniture and in-home design for the Clipper Cave giveaway is just one example of how the Jerome's family wants to share our overwhelming appreciation with our loyal customers."
San Diego (PRWEB) January 12, 2016
Jerome's Furniture is proud to announce the ultimate Clippers Cave living room makeover giveaway. Applicant can enter to win at Clippers.com or on Jerome's Facebook page, expressing in one sentence why your living room deserves a free makeover. Include a name, email and phone number to be entered into the giveaway pool on Clippers.com. Participants can also post to his or her personal Twitter, Facebook or Instagram profiles utilizing the hashtag, #ClippersCaveMakeover to enter. In addition to other furniture items, Jerome's will be gifting the Ultimate Reclining Sofa. The near lay-flat mechanisms and adjustable headrests add an extra touch of luxury, but what makes it even better is the deluxe console with Bluetooth audio system, speakers and polished aluminum cup holders. Dual lighted USB ports make charging your devices easy and convenient.
"I can confidently say we appreciate our customers more than any other furniture retailer," says Scotty Perry, VP of Digital. "Partnering with the Clippers, proving top of the line furniture and in-home design for the Clippers Cave giveaway is just one example of how the Jerome's family wants to share our overwhelming appreciation with our loyal customers."
The giveaway will run from January 1 through January 22. The Clippers Cave giveaway winner will be announced the week of January 25 and in February the living room makeover will begin. Concluding the month, Jerome's will film the Clipper Cave Makeover at the winner's home.
About Jerome's Furniture
Jerome's Furniture was founded in 1954 by Jim & Esther Navarra and is still owned and operated by the Navarra family. Now a 600-employee company with locations across San Diego in Chula Vista, El Cajon and Scripps Ranch, Jerome's still includes seven Navarra family members. In 2005, the company streamlined its operations, opening a 450,000 square foot distribution center, and in the last few years has expanded outside the San Diego area into Murrieta, Corona, Rancho Cucamonga, South Bay/Torrance, Anaheim, and Laguna Hills. For more information, please visit Jeromes.com.