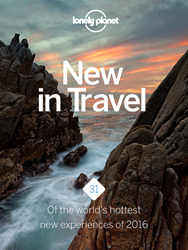 31 of the best new openings and attractions of 2016
(PRWEB) January 09, 2016
In a new collection released today, Lonely Planet names 31 of the best new openings and attractions this year has to offer. New in Travel is a free ebook available at lonelyplanet.com/new-in-travel-2016 featuring 2016's most exciting travel experiences from all over the world.
The travel experts at Lonely Planet scoured the globe to discover the latest, most cutting-edge experiences to create this year's New in Travel list, now in its second year. The ebook encourages travelers to kick the year off right, providing the inspiration and information they need to choose their next vacation destination. Each attraction included has been recently opened or is due to open this year, giving ambitious travelers the opportunity to be among the first to be there and stay ahead of the travel curve.
Experiences vary from the extreme – zip-lining Cuba's Valle de Viñales, deep sea diving in Singapore, volcano climbing in Nicaragua and jetting across Japan in a new bullet train – to the artistic – exploring indoor and outdoor art installations, openings and extensions, like London's Tate Modern and the all-new Louvre Abu Dhabi. From the solemn – Albania's ghost island and Guadeloupe's slavery museum – to the silly – a Mamma Mia! restaurant in Stockholm and a Dr Seuss Museum in Massachusetts.
With attractions and adventures to appeal to every taste, New in Travel outlines where to go, when to go and why each of the 31 experiences made it on Lonely Planet's radar this year.
Lonely Planet's New in Travel Top 10:
1. Nicaragua: Climb Nicaragua's tallest active volcano – Center for Extreme Tourism, Chinandega – October 2015
2. Japan: Zoom along northern Japan's new bullet train route – Hokkaidō Shinkansen – Spring 2016
3. Rwanda: Spot newly introduced lions in the Akagera National Park – Early 2016
4. St Helena, British Territories: Be among the first to fly to St Helena – Mid-2016
5. United Arab Emirates: Be awed by the brand-new Louvre Abu Dhabi – 2016
6. Italy: Walk on water at The Floating Piers art installation on Lake Iseo – June 2016
7. Panama: Experience an even bigger Panama Canal with a $5 billion expansion – April 2016
8. Australia: Glow among desert flowers in Australia's spiritual heart at the Field of Light installation in Uluru – April 1 2016 - March 31 2017
9. USA: Scamper around the world's first Dr Seuss Museum in Springfield, Massachusetts – June 2016
10. Indonesia: Luxuriate on Gili Meno's island retreat, BASK – 2016
For more on the latest openings and travel updates, visit http://www.lonelyplanet.com/news and follow on Twitter @lptravelnews.
To learn more about what's new in 2016, Lonely Planet's Best in Travel 2016 is now available on http://www.lonelyplanet.com/best-in-travel.
About Lonely Planet:
Lonely Planet is the world's leading travel media company, providing inspiring and trustworthy information for every kind of traveler since 1973. Over the past four decades, Lonely Planet has cultivated a dedicated traveler community and printed more than 130 million books in 13 different languages to most destinations on the planet. The Lonely Planet ecosystem also includes digital and mobile apps, a comprehensive ebook portfolio, 12 international magazines, an award-winning website and over 8.5 million followers on social media. Visit us at lonelyplanet.com, and join us on Facebook (facebook.com/lonelyplanet), Twitter (@lonelyplanet and #lp) and Instagram (instagram.com/lonelyplanet).