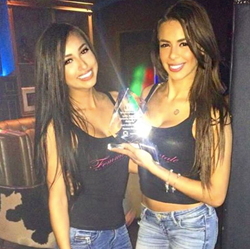 "A lot has happened since Femme Fatale Media was founded – it's just been a dizzying amount of awards and exciting opportunities to work with absolutely great people,"
Toronto, Ontario (PRWEB) January 09, 2016
Before spreading her entrepreneurial wings over New York City, Emily Lyons made a name for herself in Canada. She's the Stratford-born, Toronto entrepreneur who created her event staffing agency with few precious resources, relying on her grit, persistence, and shrewdness to achieve success.
Her award-winning event staffing agency, Femme Fatale Media, has consistently courted and pleased some of the world's biggest brands: UFC, Warner Bros., Calvin Klein, and Audi. And now, this year, Femme Fatale Media has been awarded, for the sixth time, the Toronto Night Club Award for "Best Promotional Models." This award is based exclusively on the votes of the general public. This, perhaps, is why Emily Lyons and her team is especially excited about this award.
"A lot has happened since Femme Fatale Media was founded – it's just been a dizzying amount of awards and exciting opportunities to work with absolutely great people," says Emily Lyons with enthusiasm. "I'm especially thrilled and honored to receive this award because it represents what we strive for here at Femme Fatale Media."
Remarkably, winning the Toronto Night Club award is not exactly new for this always-innovative agency. This is the sixth time Femme Fatale Media has received the award, in addition to garnering other impressive accolades this year – such as Toronto's prestigious Top Choice Award.
"I'm very proud of what our extraordinary team has accomplished this year," muses the blonde CEO. "We've worked very hard to get where we are today – but it's not stopping here. Yes, we've won this awesome award – we're really happy about that – but we are going to continue focusing on giving absolutely stellar service. We're also expanding and exploring new collaborations that will benefit our clients."
With Emily Lyons at the helm, Femme Fatale Media is now continuing its expansion into major cities in the U.S., such as New York City.