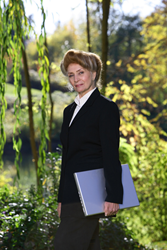 Grants Pass, OR (PRWEB) January 08, 2016
Radio host and fresh water advocate Sharon Kleyne, a longtime supporter of alternative medicine, has interviewed several leading physicians over the years about the benefits of a raw plant based (vegan) diet, on her Sharon Kleyne Hour® Power of Water® radio show. Her most recent interview was with Milven Donato, DC, a Chiropractic Physician who heads a clinic associated with the Mexico's Gerson Institute that has developed a drastic plant based diet specifically for individuals with advanced cancer.
Kleyne interviewed Dr. Donato on her radio show of January 4, 2016. They discussed cancer, the Gerson Diet and the importance of water in maintaining health. For a podcast of the show, go to http://www.SharonKleyneHour.com. The globally syndicated, education oriented radio show is heard weekly on the Internet on VoiceAmerica (Health and Wellness, and Variety Channels) and Apple iTunes.
Sharon Kleyne Hour® Power of Water® radio show is sponsored by Bio-Logic Aqua® Research Water Life Science®, founded by Kleyne and specializing in fresh water, the atmosphere, body surface evaporation, dehydration and health education. The Research Center's signature product for dry eye is Nature's Tears® EyeMist®.
Milven Donato, DPT, DC, MT and Certified Gerson Practitioner was born in Singapore and now lives in Medford, Oregon. He has a large online practice consisting of individuals with advanced cancer referred by the Mexico based Gerson Institute. Dr. Donato believes that 75 percent of his patients are measurably healthier after two years on the diet but cautions that it's a difficult diet that the patient must meticulously follow for 9 to 12 months before a noticeable result can be expected.
The diet is designed, according to Dr. Donato, not only to improve overall health and body functioning, but to "help the body heal itself" by purging a large amount of toxins. After two years, if there is a favorable result, the patient can ease up. It may take several years to eliminate all cancer markers from the body.
The basic diet, says Dr. Donato, consists of 13 glasses of juice per day. This includes 5 glasses of apple juice, 4 glasses of "green juice" (a mixture of green leafy vegetables, bell pepper and apples), 3 glasses of carrot juice and one glass of orange juice. The program also includes two light plant based meals and up to 5 coffee enemas per day.
Like Kleyne, Dr. Donato is a strong advocate of water as a major factor in health. There was considerable discussion of whether the water in the juice is sufficient or if the patient should also drink several glasses of pure water a day. Donato believes that his patients are already getting 13 glasses of water mixed with the juice and that more would be excessive.
Kleyne believes that the body absorbs pure water more easily than it does water in combination with other substances. For most individuals, to maintain health and counteract body water evaporation and dehydration, she recommends a minimum of 8 glasses of water a day in addition to all other fluid intake. Dr. Donato did not disagree but suggested that a person drinking 13 glasses of juice a day could have difficulty adding several glasses of pure water to the regimen.
The Gerson Diet, according to Dr. Donato, is high in nutrients, oxygen, water and fiber and is designed to improve toxin removal, bowel functioning and pancreas functioning. He has treated between 700 and 800 patients.
Kleyne also suggested that the biggest dietary problem in the United States is that certain foods that can seriously impair health if consumed regularly in large quantities, are very addictive and can quickly trigger allergies. High on the list are sugar, salt, fat and alcohol. Avoid these for a lifetime, says Kleyne, and there should be no major health issues. Kleyne also noted that nearly all disease is accompanied by dehydration (loss of body water content) and that there is no home testing implement to measure this.
For information about the Gerson Institute, go to http://gerson.org/gerpress. For information about Dr. Donato's program, go to http://doctordonato.com.
©2016 Bio-Logic Aqua® Research Water Life Science®. All rights reserved.