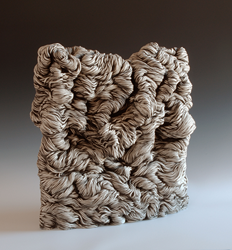 Santa Fe, NM (PRWEB) January 08, 2016
As part of David Richard Gallery' s inaugural exhibitions at its new Pacheco Street location, the gallery is delighted to announce the launch of DR Projects, a platform for young artists to showcase dynamic new work. The gallery is pleased to present ceramic sculpture by Santa Fe artist Erik Gellert, who kicks off the new project space with a new body of large-scale slab artworks entitled 'Squares.'
The exhibition "All Square" will be presented January 15 through February 20, 2016 with an artist reception on Friday, January 15 from 5:00 - 7:00 PM. There will be artist presentations, including Gellert, on Saturday, January 16, from 3:45 to 5:00 PM moderated by Kathryn M. Davis of "ArtBeat Radio" and New York-based curator Howard Rutkowski. The artist will also participate in a Salon event from 6:00 to 9:00 PM, a collaboration between the gallery and Jordan Eddy and Kyle Farrell of Strangers Collective. The theme for the Salon, "Emerge", will coincide with the #EmergeSantaFe Instameet on Saturday, January 16 from 12 noon to 9 PM and #DRProjects Pop Up Photography Exhibition produced in collaboration with @SimplySantaFeNM. All the details can be found on social media at #EmergeSantaFe. The gallery's new location is at 1570 Pacheco Street, Suite A1, Santa Fe, New Mexico 87505, phone 505-983-9555 in the midtown neighborhood art and design district.
Gellert's newest works are roughly 'square', but within and around are undulating surfaces that continually break the planes, protruding and receding. There is an organic feel to the works, suggestive of coral or even skeins of yarn. The suggestion of chance is belied by an overall rhythm to the surface and the use of Mason stains. The monolithic, slab shape lends an insistent presence to the spatial environment.
'My works are cause and effect relationships in material form. Each piece is comprised of hundreds and, many times, thousands of hand rolled coils of clay. Their hand rolled nature gives each coil a slight irregularity and distinction, which informs the overall shape and patterns that comprise each work. Both consciously and unconsciously, I add my own input into the work in the stacking of these individual coils in creating manifestations of chaotic beauty. I have begun integrating the use of acrylic paint in my work in order to achieve more brilliant, varied color schemes that cannot be achieved utilizing traditional ceramic processes.'
Erik Gellert is an artist based in Santa Fe, New Mexico. His aptitude for the arts first emerged out of the medium of clay leading him to pursue the study of drawing and painting. He applied these skills working as a preservationist, collaborating with historians to recreate wall textures and color schemes in many notable homes including the Frank Lloyd Wright Home and Studio. He moved from Chicago to Santa Fe in 2011 to pursue advanced studies in ceramics and to be surrounded by nature's beauty.
About David Richard Gallery and DR Projects:
David Richard Gallery is now located at 1570 Pacheco Street, Suite A1, Santa Fe, NM 87505, P: 505-983-9555. Since its inception the gallery has produced museum quality exhibitions that feature Post War abstraction in the US. The presentations have addressed specific decades and geographies as well as certain movements and tendencies. While the gallery has long been recognized as an important proponent of post-1960s abstraction—including both the influential pioneers as well as a younger generation of practitioners in this field—in keeping with this spirit of nurture and development the gallery presents established and very new artists who embrace more gestural and representational approaches to the making of art.
In 2015 David Richard Gallery launched DR Projects to provide a platform for artists of all stripes—international, national, local, emerging and established—to present special solo projects or to participate in unique collaborations or thematic exhibitions. The goal is to offer a fresh look at contemporary art practice from a broad spectrum of artists and presentations.
For additional information please contact:
David Eichholtz | 505-983-9555
d(at)DavidRichardGallery(dot)com