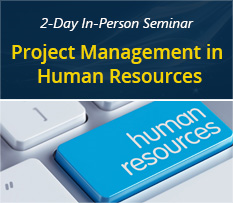 Seminar on Project Management in Human Resources
Scottsdale, AZ (PRWEB) January 11, 2016
This HR compliance training will provide a comprehensive overview to the many facets of project management specifically designed for the human resource professionals.
Seminar instructor Cathleen Hampton is a seasoned HR expert with more than 25 years of experience helping companies in the areas of risk mitigation and compliance management, work force planning, and human capital strategy. She is a well-known speaker noted for presenting best-in-practice solutions focused on talent retention and operational strategies that outpaced major completion through strong and decisive business leadership.
During this two day interactive HR Project Management Training, Ms. Hampton will offer an introduction to the fundamental principles behind the nuts and bolts of planning, scheduling, and budgeting. Attendees will learn how to set and meet milestones, gain confidence to negotiate for new deadlines if necessary, motivate a team that's losing interest, and determine what to do when plans change midstream. This course will also provide know-how on various planning and scheduling tools including the use of GANTT charts, the critical path method, work breakdown structures, project management software, and much more.
This course is beneficial for human resources professionals, employee relationship managers, HR directors, employment managers, chief talent officers, HR coordinators/supervisors, HR administrators and HR analysts.
Date: Thursday, January 21 and Friday, January 22, 2016 (8.30 AM- 4.30 PM)
Location: Scottsdale, AZ
Registration Cost: $999.00 per registration
Early bird discounts: For discounts on early registrations, please click here.
Register by phone: Please call our customer service specialists at +1-650-620-3937 or email to customercare(at)complianceonline(dot)com
For more information on ComplianceOnline or to browse through our trainings, please visit our website.
About ComplianceOnline
ComplianceOnline is owned and operated by MetricStream. MetricStream is a market leader in Enterprise-wide Governance, Risk, Compliance (GRC) and Quality Management Solutions for global corporations. MetricStream solutions are used by leading global corporations in diverse industries such as Financial Services, Healthcare, Life Sciences, Energy and Utilities, Food, Retail, CPG, Government, Hi-Tech and Manufacturing to manage their risk management programs, quality management processes, regulatory and industry-mandated compliance and other corporate governance initiatives.
For more information and media inquiries please contact:
A Reuben Bernard
Manager of Program Marketing
ComplianceOnline
2600 E Bayshore Rd
Palo Alto CA USA 94303
650-620-3937 phone
650-963-2530 fax
reuben(at)complianceonline(dot)com
http://www.complianceonline.com