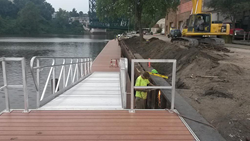 Elyria, Ohio (PRWEB) January 11, 2016
KS Associates, Inc., a civil engineering and surveying firm located in Elyria, Ohio, will be among the exhibiting companies at the 2016 Ohio Parks and Recreation Association (OPRA) Conference. The event takes place from January 31 to February 3, 2016, at the Kalahari Convention Center in Sandusky, Ohio. John S. Matricardi, P.E., KS Associates' Director of Coastal Engineering Services, and Mark P. Cencer, P.E., a KS Associates Project Engineer, will be on hand to provide insight and advice on funding, designing, building, and maintaining waterfront facilities.
Among the topics that KS Associates representatives will discuss is why floating docks are becoming the standard for modern marinas around the world. Matricardi and Cencer will walk conference attendees through the layout and design of floating docks and breakwaters for park marinas. They will explain the primary factors to consider in floating dock and breakwater design, including dock layout, anchor systems, and gangways, as well as permitting and construction issues. They will also showcase successful projects, highlighting the optimal dock layout and design for new marinas, and assessing and recommending improvements for existing marinas.
About KS Associates, Inc.:
KS Associates is a civil engineering, transportation engineering, and land surveying firm that provides planning, design, and construction phase services related to public infrastructure projects. KS Associates specializes in the areas of transportation, potable water, waste water and storm water; coastal engineering services; site development engineering services for institutional, commercial and residential uses; land surveying and mapping services; and 3D laser scanning services. For more information visit: http://www.ksassociates.com.
About the Ohio Parks and Recreation Association:
Ohio Parks & Recreation Association (OPRA) is a non-profit, public interest organization. The association represents professionals and citizen board members striving to provide quality park and recreational facilities for Ohioans while protecting and preserving Ohio's natural resources. OPRA's mission is to advance parks and recreation services through networking, education, training and advocacy, thereby enhancing the quality of life for the communities it represents. For more information about OPRA and to register for the conference, go to: http://www.opraonline.org.