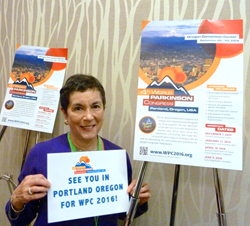 At the WPC 2016, neuroscientists, clinicians & people with PD share the same experience, making it the most diverse and energizing meeting in Parkinson's today, says Serge Przedborski, MD, PhD, WPC President
(PRWEB) January 12, 2016
Mark your calendars to join the World Parkinson Coalition®, host of the triennial international 4th World Parkinson Congress (WPC 2016), from September 20-23, 2016 at the Oregon Convention Center in Portland, OR. Unique to the Congress, more than 3,600 world-renowned neurologists, neuroscientists, and health care professionals meet and mingle with people with Parkinson's (PwP) and their care partners over four days of high-level discussions and talks on the latest scientific discoveries, medical practices and caregiver programs related to Parkinson's disease. Furthermore, the Congress' distinct format enables discussions not only on leading scientific studies and current work, but allows for dialogue between participants about real issues facing PwP, potentially shaping future Parkinson's research, treatment and care.
"The WPC 2016 is the premiere meeting for international discourse on research, treatment and management of Parkinson's," states Elizabeth "Eli" Pollard, executive director of the World Parkinson Coalition. "By providing a forum to connect Parkinson's experts who identify as researchers, health care providers and people with Parkinson's from all over the world, WPC 2016 enables a range and depth of conversations unlike any other meeting on Parkinson's."
WPC 2016 Highlights

Hot Topics – Breaking news and latest Parkinson's research
Workshops – Professionals, PwP and care partners learn the latest on disease management
Roundtable – Intimate, small group settings with Parkinson's experts who share their knowledge and answer questions
Exhibit Hall – Cutting-edge technologies in medical practice, new treatments, and more
Wellness Way – A exceptional space within the Congress offering yoga, movement training, voice therapy, meditation, massage and other activities along with a room catering to care partners and their unique needs
The Stanley Fahn Young Investigator Award – Named after internationally renowned expert in Parkinson's research and clinical care, and founder and past president of the World Parkinson Coalition and its Congress; this award will be given to one outstanding abstract submitter whose work is deemed cutting edge, novel and shows great promise
Networking events – WPC Film Night and WPC Music Night, WPC Allied Health Professional Networking, and the Closing Ceremony
3rd WPC Video Competition Grand Prize winner announced at opening ceremony; judges include Oscar nominated filmmaker Irene Brodsky and WPC 2013 Grand Prize winner, Andy McDowell for his video, Smaller
WPC teams up with Light of Day Foundation (LOD) for amazing evening of music; LOD founded by former Bruce Springsteen band manager, Bob Benjamin, to raise financial support for Parkinson's research and care
Event Highlights Leading Up To WPC 2016

Former NBA forward Brian Grant, who was diagnosed with young onset Parkinson's at the age of 37, in collaboration with the WPC, is leading the Power Through Project (PTP), an international exercise movement. PTP participants will exercise their way virtually from Montreal to Portland, as a way to illustrate the importance of keeping fit, staying social, and moving.
Emmy and Peabody Award winning journalists, Jon Palfreman and Dave Iverson, host monthly podcasts on Parkinson's science and care.
Parky the Raccoon travels the globe while raising funds for travel grant awards, to enable junior clinicians, researchers and PwP to attend WPC 2016.
Portland High School students show their support for the WPC community by building a Parky the Raccoon statue to greet attendees as they arrive. (insert picture)
Keeping the Parkinson's community current on the science – Six webcasts by leading researchers from the recent 2nd WPC Scientific Update.
About the World Parkinson Coalition® and WPC 2016
The World Parkinson Coalition Inc. is a nonprofit organization that provides an international forum for learning about the latest scientific discoveries, medical practices, caregiver initiatives and advocacy work related to Parkinson's disease. The World Parkinson Coalition® launched the first Congress in 2006 to provide a space for the global Parkinson's community of researchers, clinicians, health care professionals, people with Parkinson's and their care partners to meet in person, network and to share advances in Parkinson's research, improve understanding and promote advocacy worldwide, and to potentially shape future research, treatment and care.
From its modest beginning to nearly 10,000 delegates who have participated in the previous triennial Congresses, the WPC 2016 is expected to attract between 3,600 to 3,800 delegates. To learn more about the 4th World Parkinson Congress, please visit: http://www.wpc2016.org/