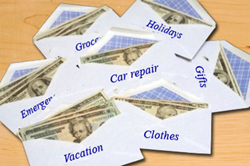 It can be accomplished just by picking a few minor practices and sticking with them.
Boston, MA (PRWEB) January 11, 2016
National nonprofit American Consumer Credit Counseling is helping consumers learn more about saving. While many consumers have heard about the importance of budgeting and being mindful of burdensome credit card debt, there are many daily activities that can help consumers save money. ACCC provides 13 uncommon ways to save in their own homes.
"The act of saving does not need to be overwhelming," said Steve Trumble, President and CEO of American Consumer Credit Counseling, which is based in Newton, MA. "It can be accomplished just by picking a few minor practices and sticking with them."
Although the job market is booming, many U.S. consumers are choosing to save instead of spend. In February 2015 the saving rate jumped from 4.4 percent to 5.8 percent, the highest saving rate since 2012.
Saving can be as simple as identifying your wants versus your needs. Start by kicking a bad habit, such as smoking or dining out for every meal, and put that money you would have spent into a savings account. Saving a little money here and there can add up sufficiently over time.
American Consumer Credit Counseling offers 13 uncommon ways to save:
1. Make homemade cleaning products and repurpose as applicable
2. Unplug appliances including televisions, etc. when not in use
3. Reuse/repurpose disposable items such as paper towels, tinfoil, sandwich bags and lunch bags
4. Dry clothes outside avoiding the need for a dryer
5. Use a timer for showers and reduce shower time to 5 minutes
6. Who turned the lights out? Keep only a light on in the room you are occupying and if you don't need it – turn it off.
7. Have a home energy audit done. Many times energy audits will provide you energy efficient lightbulbs and power outlets
8. Switch to family phone plans vs individual lines
9. Look for discounted options for entertainment – Dig deals in Group on / Living social
10. Shop Smart – Online rebates/coupons/cash back rewards
11. Take care of your things. Cars, electronics, furniture, clothes… all of them will last longer with proper maintenance and doing your own repairs where possible.
12. If you need an item for your home, consider buying used items and shop at thrift stores.
13. Minimize gifts for family members. If you are prioritizing savings in your family, spend a little less on each other so you can add more to savings or spend more on gifts for others.
ACCC is a 501(c)3 organization that provides free credit counseling, bankruptcy counseling, and housing counseling to consumers nationwide in need of financial literacy education and money management. For more information, contact ACCC:

For credit counseling, call 800-769-3571
For bankruptcy counseling, call 866-826-6924
For housing counseling, call 866-826-7180
Or visit us online at ConsumerCredit.com
About American Consumer Credit Counseling
American Consumer Credit Counseling (ACCC) is a nonprofit credit counseling 501(c)(3) organization dedicated to empowering consumers to achieve financial management and debt relief through education, credit counseling, and debt management solutions. In order to help consumers reach their goal of debt relief, ACCC provides a range of free consumer personal finance resources on a variety of topics including budgeting, credit and debt management, student loans, youth and money, homeownership, identity theft, senior living and retirement. Consumers can use ACCC's worksheets, videos, calculators, and blog articles to make the best possible decisions regarding their financial future. ACCC holds an A+ rating with the Better Business Bureau and is a member of the National Foundation for Credit Counseling® (NFCC®). . For more information or to access free financial education resources, log on to ConsumerCredit.com or visit TalkingCentsBlog.com.