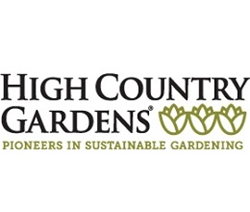 Williston, VT (PRWEB) January 11, 2016
High Country Gardens, the pioneer in sustainable and waterwise gardening, has introduced more than 30 new plant varieties for Spring 2016. These tough, water-thrifty plants, many of which are native, are well-suited for a variety of climates, and are particularly well-adapted for the desert southwest and rocky mountain regions.
The High Country Gardens 2016 Plant of the Year is Luminous Pineleaf Beardtongue (Penstemon pinifolius 'Luminous'). This bright light-orange, yellow-throated flower lights up like a glowing orange bouquet of light when captured by the low angled morning and late afternoon sunshine. It is an exceptional small-growing, evergreen shrublet that covers itself with luminous orange flowers in late spring-early summer. A western native perennial, 'Luminous' thrives in well-drained soils that get plenty of sun and grows to about 8' tall. One of two High Country Garden's plants to receive a 2016 Green Thumb Award, Luminous comes in 5" pots, is suited for zones 5-9 and retails for $10.99.
Thin Man Indiangrass (Sorghastrum nutans Thin Man™ PPAF), another 2016 Green Thumb Award Winner, is a selected form of native Indian Grass that produces a deep blue foliage and has a narrow, upright growing habit. Blooming in late summer, the attractive bronze-colored flowers create a lot of big seeds that feed songbirds. Selected from a population of Indian Grass originally collected near Clovis, NM, 'Thin Man' is more xeric and tolerant of dry Western growing conditions than other Indiangrasses typically found in the Midwest and East Coast. Thriving in full sun and growing to about 6 feet in height, 'Thin Man' is suited for zones 4-9, and sold in 5" pots for $12.99.
A new introduction perfect for gardeners looking to attract pollinators, Sky Island Orange Hummingbird Trumpet (Zauschneria canum v. latifolium 'Sky Island Orange') blooms in early fall, and produces hundreds of long, bright orange nodding tubular flowers. A western native wildflower, this species of Hummingbird Trumpet does best when not grown too dry, and appreciates regular watering during dry summers when it's blooming. Maturing at just 36 inches tall, this fall-blooming perennial is eagerly fed upon by migrating hummingbirds who benefit from its nectar-rich flowers. Sold in 5" pots this species performs best in full sun. It is suited for zones 5-8 and retails for $9.99.
A sensational bloomer with an explosion of huge, clear yellow August daisies, Lemon Max Perennial Sunflower (Helianthus x Undaunted® Lemon Max) is a big strapping plant that grows to about 5 feet in height. With almost an equal girth, Lemon Max needs plenty of room to grow and is especially well-suited to meadows and habitat gardens. While at home in any soil type, the plant loves clay and blooms best when in full sun. Great for attracting pollinators, native bees are especially fond of these nectar-rich sunflowers. A garden hybrid between 'Dakota Sunshine' and 'Lemon Queen,' it was discovered by Lauren Ogden in her Ft. Collins garden, these giant beauties are suited for zones 4-8 and are available in 5" pots for $10.99.
This year High Country Gardens is also offering an expanded selection of Monarch-attracting milkweeds, such as A. tuberosa ('Western Gold' and Clay form), A. speciosa, A. incarnata, and Rose Milkweed (Asclepias incarnata). More refined than some of the other species Rose Milkweed produces showy pink blooms and serves as a food plant for Monarch butterfly caterpillars and a nectar source for the adult butterflies. This superb garden plant meshes well with ornamental grasses, and grows nicely in both moderately moist and wet soils. Sold in 5" pots for $10.99, Rose Milkweed is an excellent choice for rain gardens and outlaying low areas. This species is suited for zones 3-9; it matures to about 4 ft. tall and blooms best in full sun.
For more information on High Country Gardens and its full 2016 line of new plant varieties, please visit http://www.highcountrygardens.com.
High resolution images are available upon request.
About High Country Gardens
High Country Gardens is a pioneer in sustainable gardening, specializing in eco-friendly, drought-resistant plants grown in Denver and Santa Fe. Our mission is to improve the earth one garden at a time. High Country Gardens has successfully changed the nature of gardening in the west and beyond by building our reputation on the cultivation of hardy, water-thrifty perennials, native plants, ornamental grasses, unique cacti and succulents. Founded in Santa Fe, NM in 1993 by renowned horticulturist David Salman, High Country Gardens is now a part of American Meadows, based in Williston, VT, the leading online retailer of wildflower seeds. For more information please visit http://www.highcountrygardens.com.