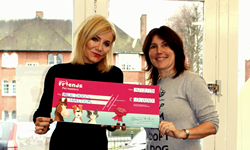 "We are very thankful to Animal Friends Pet Insurance for their generous donation and the wonderful support." - Jeremy Hulme, SPANA
Amesbury, Wiltshire (PRWEB UK) 13 January 2016
Animal Friends Pet Insurance has been travelling the UK to give donate to charities in need, such as SPANA, Save the Rhino, Bleakholt Animal Sanctuary, Celia Hammond Animal Trust and NOWZAD, with the help of some celebrity guests including soap stars and even a Downton Abbey legend.
The first stop on their travels was Bleakholt Animal Sanctuary in Bury, where they co-presented the charity with a cheque for £10,000, with Emmerdale actress and model, Gemma Atkinson.
Gemma said: "I'm a huge, huge animal lover, [Bleakholt] do an amazing job caring for injured, unwanted or sick animals, so they're doing really, really good in my book[…] Thank you so much to Animal Friends for coming up to Bleakholt Animal Sanctuary in Bury, we're all very appreciative, thank you."
One of the bigger charities on the agenda was Save the Rhino. Representatives from Animal Friends went to their head office in London with £10,000 to present.
Save the Rhino's spokesperson said: "We'd like to say a huge thank you to Animal Friends Pet Insurance for their recent generous donation of £10,000 to Save the Rhino International. Animal Friend's donation will help Save the Rhino tackle the poaching crisis by supporting anti-poaching units in the field, providing veterinary treatment to injured rhinos, raising awareness through community conservation and environmental education schemes as well as supporting initiatives to reduce the demand for rhino horn in Vietnam; a major rhino horn consumer country."
On the same day, Animal Friends presented SPANA with a cheque to help them with their global efforts in treating working animals. They too received a cheque for £10,000.
Jeremy Hulme, chief executive of SPANA, said: "We are very thankful to Animal Friends Pet Insurance for their generous donation and the wonderful support they have given SPANA in recent years. Their donation will make a really major difference, making it possible for our vets to provide significantly more free treatment to working animals in many of the world's poorest countries. It will also help SPANA to respond quickly to save animals' lives in emergencies, as well as improving animal welfare in the long term through teaching and training. Thanks to Animal Friends Pet Insurance, we can continue improving the lives of thousands of animals every year, and protect the livelihoods of the families who rely on them entirely."
Animal Friends also visited All Dogs Matter, a dog rehoming charity based in London, with actress Michelle Collins, who co-presented a £10,000 cheque.
Michelle said: "All Dogs Matter is one of my favourite charities, because I got my dog Humphrey from All Dogs Matter, so it's very special to me."
Executive Manager, Ira Moss, said: "It's a very nice surprise, especially this time of year. Sadly we're already seeing a lot of pre-Christmas abandonment. The donation will go towards emergency vet bills and kennelling over the holidays."
Last week, the insurance company made a presentation to NOWZAD with the help of legendary actor, and Downton Abbey recurring star, Peter Egan. Meeting charity founder, Pen Farthing, Animal Friends MD Elaine Fairfax handed over the £10,000 cheque with Peter. NOWZAD rehabilitate and rehome dogs in Afghanistan, but they also treat some more unlikely animals, such as a Golden Eagle, recently brought in by its owner who had stolen the egg from the mountains and raised the huge bird, only to find he could not afford to feed it once it reached adulthood.
Pen Farthing said: "This donation is absolutely fantastic, I can't thank Animal Friends enough for it, it's going to make a massive difference to the work we're doing in Kabul."
Animal Friends has produced videos about several of the charities, including the celebrity cameos, which can be seen on their YouTube channels.
For more information about the visits, photos, video footage or quotes, please contact Elena Barnard at press(at)animalfriends(dot)co(dot)uk, or via telephone on 01980 666073.
Links
Youtube: https://www.youtube.com/channel/UCF9Tz0suK8QWWpCDIj3Gf8Q
Animal Friends: http://www.animalfriends.co.uk
About Animal Friends Pet Insurance:
Animal Friends is a multi-award winning ethical pet insurance company that supports animal welfare charities all over the world and has donated £2.4 million to animal charities to help improve the lives of animals. Twice-named Pet Insurance Provider of the Year 2015, Animal Friends is one of the UK's leading pet insurance providers.