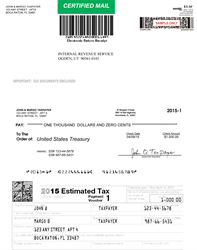 We've streamlined steps and added several features through our software in order to make 1040ES and 1040V payments a breeze
BOCA RATON, FL (PRWEB) January 08, 2016
Paying 2016 quarterly estimated taxes just got easier for the self- employed, thanks to 1040ES and/or 1040V tax form self-mailers from Laser Substrates. Designed for the individual taxpayer, these all-in-one forms allow users to print an IRS-compatible 1040ES and 1040V form with payment check simultaneously, along with a host of other time saving options. The one-piece document can then go directly from the printer to the mailbox with just a few quick folds; no separate envelope is required. Please Click for Demo: http://tax-form-self-mailers.com/#demo
"Currently, people who mail in quarterlies must find the correct form on the IRS website, print it out and manually fill it in, cut a separate check for the payment, and find an envelope and stamp," explains Mark Nelson, Director of Operations at Laser Substrates. "It's a tedious, multi-step process that takes up valuable time—time most busy taxpayers don't have. We've streamlined those steps and added several features through our software in order to make paying estimated and additional taxes a breeze."
The 1040ES and 1040V tax form self-mailers work cohesively with Laser Substrates' secure, downloadable TransForm software (Tax Payer Edition). Users can print the 1040ES and 1040V with an optional payment check, signature, and even postage (via a Stamps.com account)—all in one pass through their home or office non-impact printer. An option for USPS-approved Certified Mail is also included to provide added assurance of timely payment receipts to the IRS. Several bonus features simplify the process further:

The sender's zip code automatically references the correct IRS address to print on the envelope portion. No need to go searching online.
A signature capture function lets users enter their signature electronically so that it can be reused. This eliminates the need to sign the forms and checks by hand.
The Tax Payer version includes forms for all states that require state quarterly filings, as well as the latest city and local forms where required.
Complete summaries that include every payment made in a tax year can be produced and printed at any time.
An unlimited number of taxpayers and transactions can be produced from the software. This is a boon to multiple family members filing singly as well as money managers, financial and asset managers, and personal agents.
"Tax issues are challenging enough for self-employed professionals and small business owners," adds Nelson. "With our multi-functional tax form self mailers, we've helped to make the process less daunting and easier to manage, and that's a major step forward."
TransForm Tax Payer Edition software can be downloaded at no cost; users only pay for the forms themselves. Forms are available in quantities as few as 10. For additional information, a visual demo, or form ordering please visit: http://www.tax-form-self-mailers.com.
# # #
About LaserSubstrates, Inc.
Located in Boca Raton, Florida, Laser Substrates, Inc. is the leading provider of PC-based and web-based software solutions to automate the generation of USPS Certified Mail forms. Laser Substrates, Inc. also develops, manufactures, and markets engineered laminated business forms compatible with today's most popular laser and inkjet printers.
CONTACT:
Mark Nelson, Director of Operations
Laser Substrates, Inc.
6251-C Park of Commerce Blvd.
Boca Raton, FL 33487
(800) 538-4900