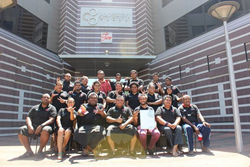 "We are glad that we selected Sagitec as our partner to meet our transformation needs," said Assistant General Manager for Member Services Alipate Waqairawai.
St. Paul, MN (PRWEB) January 10, 2016
Sagitec Solutions, based out of Little Canada, Minn., recently received international recognition for their innovative Neospin™ benefit management solution. The International Social Security Association (ISSA) presented the Fiji National Provident Fund (FNPF) a certificate of merit award on Nov. 2, 2015 for their ProMIS application, which was designed, developed, and implemented by Sagitec Solutions.
The ISSA recognized the superannuation fund's benefit management solution because it severely transformed business operations, enabled the fund to comply with government mandates, and improves member satisfaction, among other improvements.
Implemented at a record pace, in just over eleven months, the new technology impacts every employer and employee in the island nation of Fiji. It touches over 395,000 members and 8,900 employers. These numbers are significant – especially considering the entire population of Fiji is under 900,000.
To read more, go to: http://bit.ly/1O7VFn8