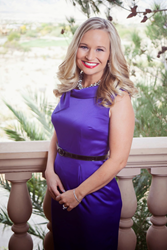 Never stop searching for the ordinary extraordinary moments in parenting.
(PRWEB) January 11, 2016
Leah Spina is a former journalist, mother of three children, age five and under, and author of Amazon Best-Seller Stop and Smell Your Children: Laugh and Enjoy the Little Years. Her mission is simple, encouraging mothers of young children to laugh and enjoy, not just endure, the little years. Leah believes that change in perspective as a new parent can change everything for the better, and uses real life stories to illustrate points, deliver concrete ideas, and give tips to busy moms to easily incorporate in their daily routines.
Ms. Spina will be kicking off her 2016 speaking tour at the MOPS Group of Gambrell Street Church in Fort Worth Texas, on January 11, 2016, at 9:30 am, where she will be sharing her tips and tricks on 'Laughing and ENJOYING the Little Years'.
Other MOPS events Ms. Spina will be speaking at include trips to Richardson and Haslet, TX at the end of the month, as well as trips to Dallas, TX and Fort Worth, TX in February.
In the month of April, Ms. Spina will be speaking at the 2016 Ambitious Women Conference in Grapevine, TX. This event will be held at the Hilton DFW Lakes hotel, on April 1st, 2nd, and 3rd. The author also has MOPS visits scheduled in Keller, TX, Carrollton, TX and Frisco, TX for the same month.
For more information on Ms. Spina's speaking engagements, as well as how to book her, please visit: https://www.facebook.com/LeahSpinaAuthor/ as well as http://www.leahspina.com/speaking/
"Leah is a dynamic, relatable speaker who had us both laughing and crying when she shared with our MOPS group. Not only is she currently walking through the ever-challenging preschool years, but she has such a beautifully encouraging perspective." - Rachel Vecera, Central Arlington MOPS Coordinator.
About Ms. Spina:
Leah Spina is a former journalist of a national news magazine turned stay-at-home mother of three children, age five and under. She graduated from Thomas Edison State College with a B.S. in Business Administration and World Journalism Institute, and also worked at the Gladney Center for Adoption as a Childbirth Coordinator. Leah resides in the Dallas/Fort Worth, Texas area with her husband, David, and their three children: Samson, Esther and Hannah.