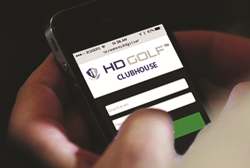 We realized that there was a need for indoor golf facilities to manage their business in a more convenient and efficient manner and also enhance connectivity between the business, instructors and players
Vaughan, ON (PRWEB) January 10, 2016
The new Clubhouse Management System is ideally suited for a variety of businesses that have an indoor golf amenity in their facility such as hotels, resorts, indoor golf centers, golf academies, golf retail, golf course clubhouses etc.
"We realized that there was a need for indoor golf facilities to manage their business in a more convenient and efficient manner and also enhance connectivity between the business, instructors and players. In order to be truly effective, we made it cloud-based so that the system could be managed at any time from anywhere," said Todd Richardson, CEO of High Definition Golf.
Key features include:

Cloud-based – can be accessed at any time, anywhere from any device including smartphones and tablets
Added convenience for management or players to make reservations online for simulators, leagues, tournaments, book instructors or clinics
Leagues and tournaments can be set up with the click of a button, improving facility time management and efficiencies
Monitor simulator usage, time, hours etc., to establish profitability benchmarks
Enhanced communication with customers through integrated messaging
Generate a wide variety of reports for all aspects of the indoor golf business
Cloud-based Player Lockers include all statistical information on Tournament Rounds, Personal (My) Rounds, Leagues, Video Swing Analysis, Lessons, Club fitting and Fitness
Instructors can connect online ¬– upload/download lessons and critiques to players providing critical analysis of a players golf swing, using with a wide variety of drawing tools
Instructors can access the player database to manage their students, record lessons, monitor progress etc.
Remotely manage or participate in leagues or tournaments from any place in the world
Customize the Clubhouse Management system to reflect individual business branding
Promote events, food and drink specials, upcoming tournaments and leagues, etc.
Reduce administrative time and costs while increasing profitability
The Clubhouse Management System is offered in three different versions including:
Individual: Individual players can connect anywhere, anytime to a personal cloud based Player Locker with its many features
Pro: Ideal for both league and tournament management as well as for instructors for lessons and player management.
Enterprise: The enterprise version of the Clubhouse Management System provides everything a multi-simulator or multi-facility golf business needs to manage their business
About High Definition Golf™
HD Golf™, the company that pioneered computer vision technology in the golf simulation industry, is widely considered the most accurate system. For instruction, HD Golf™ offers a fully integrated professional golf instruction studio. The system generates a variety of customizable performance reports that golfers may access online. Very easy-to-use, these professional-grade tools operate seamlessly from a single computer system. This has made HD Golf™ indoor simulators, a favorite in golf academies, indoor golf centers, golf course clubhouses, recreation centers, luxury homes, hotels and resorts around the world.