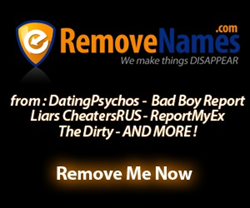 "We Make Things Disappear!"
Baltimore, MD (PRWEB) January 10, 2016
Baltimore, MD: RemoveNames.com, the best Internet Reputation Management Company specializing in personal damage control, has announced that it will now be doing business internationally.
RemoveNames.com, which operates through their website http://www.removenames.com, specializes in helping clients remove names and derogatory information from various websites, blogs and review forums. The expansion of the company's operations onto the international scene will provide people from all over the world with an easy option for removing negative information that can hurt their personal or professional lives.
RemoveNames.com is run by Jake Lawson, a seasoned SEO expert with more than 15 years experience in online reputation management, . The company's services are geared towards helping victims of online smear attacks restore their damaged reputation. Its list of past clients includes people whose exes have posted false information on cheaters or people search weScreenshot (905)bsites. It also offers its services business people and businesses that have received unfair reviews and rating, or who are facing smear campaigns by competitors on various online forums.
RemoveNames.com provides unique reputation management services, which includes complete removal from the source website, blog post and forum, suppression in case removal fails, and constant monitoring of the internet to prevent any smear attacks in the future. The company prides itself in being one of the most successful online reputation management companies. "While our competitors attempt to bury the information, we focus on a complete removal of the negative information, and we are very good at what we do." "We strive to find lasting solutions for our clients rather than attempting to bury the negative information."
RemoveNames.com services will be of great benefit to people or businesses that are facing online defamation. The negative reputation that comes with these smear campaigns has the potential to irreversibly ruin a person's personal and professional life, which can lead to serious financial crisis. Remove Names helps to ensure this does not happen by immediately removing the derogatory information, and working towards repairing the client's reputation using positive search engine optimized articles and blog posts.
RemoveNames.com is currently based in Baltimore, Maryland. In the United States, the company has managed to provide successful removals for lots of clients whose names have been posted on cheaters sites. Speaking of the company's service, Nikki L., a past client, said "A nasty article appeared on the internet and nearly cost me my job. Remove Names helped to get it off and I can't thank them enough."
Remove Names has also managed to help businesses to remove negative information posted by coScreenshot (906)mpetitors "My plastic surgery business was suffering due to a competitor who had posted false information. RemoveNames.com helped to repair our reputation" The reputable removal services offered by the company has seen it earn a B rating with the Better Business Bureau, making it one of the few online reputation management companies to receive the rating.
In addition to the United States, RemoveNames.com has also managed to penetrate the international scene, where it has provided successful removals for clients in various countries, including the U.K, Canada, Belgium, Russia, Australia and others. The company hopes that their announcement will help them even penetrate more countries, where they can help people fight online defamation.
The announcement that RemoveNames.com is taking its business international comes at a time when there is a great need for reliable reputation management companies. The increase in user-generated content websites has made it very easy for people and businesses to conduct smear campaigns using false information on various internet forums. The victims of these false information and smear campaigns are usually left with very few alternatives due to the complex process of removing such information. The availability of the company's service will thus come as a relief to many people who are seeking to have their reputation repaired.
About RemoveNames.com
RemoveNames.com is an online reputation management firm based in Baltimore, Maryland. The company specializes in helping victims of online defamation remove their names and information from websites cheater and people website. It also helps business to remove negative search results and fake reviews and rating from review forums. In addition, it offers reputation management services, which help people and businesses to repair damaged online reputation resulting from online defamation.