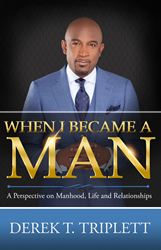 Perfect for anyone desiring to start the year out right.
Pittsburgh, PA (PRWEB) January 13, 2016
Just in time for the New Year, the standout new book When I Became a Man by Derek Triplett provides men with real-life solutions for the issues that every man faces. Triplett has taken on the challenges of all men, perfectly analyzing the difficulties of balancing a professional, personal, and spiritual life in this fast-paced world. From financial issues to dressing for success, Triplett is able to help men who want to get organized and on track spiritually, emotionally, and professionally for improved and continued success in life.
When I Became a Man is perfect for anyone desiring to start the year out right, fulfilling every "New Year, New You" holiday wish. Men will respect Triplett's honest look on life, and mothers and wives everywhere will appreciate Triplett's no-nonsense perspective on what it takes to be a strong, responsible man.
With over 20 years in pastoral ministry, Triplett is the founding pastor of Hope Fellowship Church in Daytona Beach, FL. Not only has he started multiple national programs to help males reach their full potential, but this gifted speaker, preacher, teacher, and songwriter has also been featured on the Word Network, the Impact Network, and TBN's Praise the Lord.
When I Became a Man by Triplett is currently available on Amazon, iTunes, and Triplett's website, http://www.DerekTriplett.com